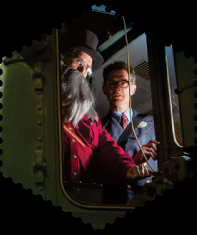 EPS Caretakers. Please also see ENS profiles.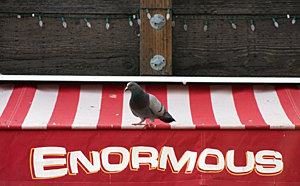 Jim "Jimmy" Yurdonavitz (President).
The laid-back pigeon leader of the Elsewhere Philatelic Society. Jimmy (@jmmy2020) spent the mid-90s squatting in an abandoned paint factory with his friends Any, Koleo [1] [2], Dave, Dumpy, and ArfARF (see below). Jimmy creates most of the hazard series hazards. While "riding the rails," Jimmy snuck onto Timothy Q. Pepperscratcher's candy train and was almost "chocolatized" by the steam-powered machinery. Jimmy parlayed this experience into securing employment onboard as "lead concherer." After the candy train was sold, Jimmy used the caboose as his home for awhile. Occasionally Jimmy will use an electronic speech-generating device that has a British accent when emailing and/or squawking doesn't cut it. Sometimes Jimmy will wear a postal-type hat when the workload gets heavy and he wants to "be a bit more professional." Jimmy skates and looks for free food on the street.

   The Search For Jimmy (2011).
   Jimmy's Journal (2011).
   Studies in Location: Jimmy (2012; audio).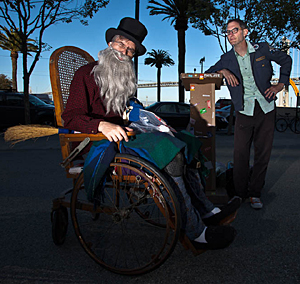 Timothy Q. Pepperscratcher (President Emeritus).
Born in 1879, Timothy is actually only around 89 years old due to being afflicted by a strange malady known as "Time Saladism." Saving his money while riding the rails and selling candy, Timothy bought a train and converted it into a rolling factory to make chocolate and various other confections. The endeavor lasted for a few years and is how he met Jimmy (there is more information about this time in Jimmy's Journal). After selling the candy train, he then owned a store called "Timothy's Victorian-Edwardian Candy Shoppe" which hung off a perilous go-kart track in Secret Town, California. Of all the EPS caretakers he is the least concerned with the movements of the ENS but yet may be the most affected by them: there are some that believe his Time Saladism affliction was created by ENS President Breen, at the very least. Timothy used to roll around in a wheelchair because he is lazy, but has since graduated to a mechanic's creeper and the occasional first-generation longboard. "This is better because I like the sky!"

   EPS #99: Timothy Q. Pepperscratcher's 
            Look Back Into Historical History Volume 26: Candy Meat! (2011)

Mailman Miek (Mail Carrier First Class).
Mailman Miek was found in the midst of a pharmacological [sic] haze on Haight Street by then-president Timothy Q. Pepperscratcher who dusted him off, picked him up and then dusted him off again, and gave him a job as the official mail carrier of the Elsewhere Philatelic Society. Leo.

   Burning Man (2010; video).
   Mailman Miek's Mail Bag (2011).
   Miek's Fifth Anniversary Speech (2015).
   Let's All Visit The U.S. Department of Forms (2015).

Mailman Ted (Mail Carrier First Class).
Mailman Seriated "Ted" Playfair-Dinkum (of the Northeastern Playfair-Dinkums) is involved in the training of new members, gruffly answering questions and ticking off checkboxes. After the removal of the EPS from the Underground Library, he is irrationally afraid of the EPS getting kicked out of not-the-Underground-Library, hence his insistence on what passes for EPS protocol and a desire for members not to draw too much attention to themselves. For unknown reasons, Ted's beard frequently changes colors, a phenomenon which he consciously denies, or perhaps of which he is completely ignorant, either willfully or not. He manages to frustratedly sidestep this fact when brought to his attention.

   Ted's Fifth Anniversary Speech (2015).
   Let's All Visit The U.S. Department of Forms (2015).

Drake Francisco (Branch Manager, EPS Field Office).
"Please do not ask about the goats."

  Let's All Visit The U.S. Department of Forms (2015).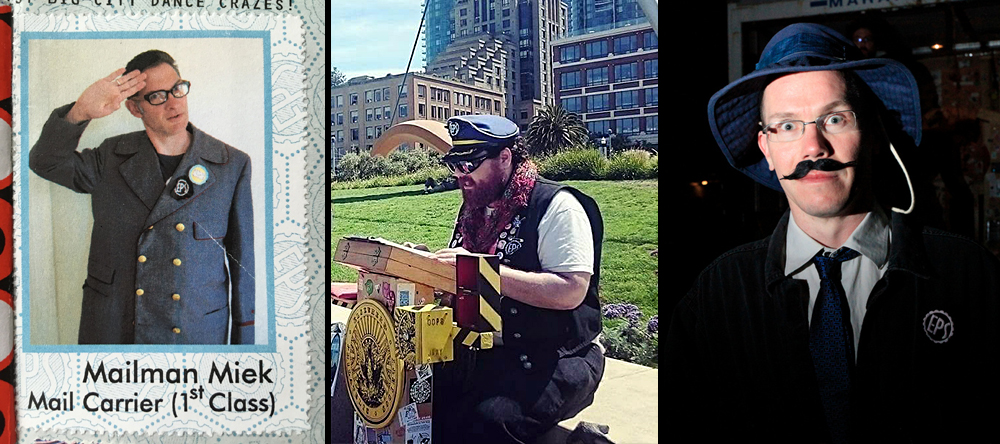 Mailman Miek, Mailman Ted, Drake Francisco
Kaidan Tansu Jr (Cabinet member).
One of the newest behind-the-scenes caretakers of the EPS, Kaidan took over for Jimmy when he went missing back in 2011. Kaidan now writes all of the very strait-laced EPS bulletins, some of the website text, and has basically taken over the @philatelicism account for Timothy who is still lazy.
Ethel Tambour Allen (Secretary to the President).
Ethel is responsible for introducing nascent philatelists to the wonders of philatelicism, largely through the storied EPS Member Packet/large square envelope. Generally contained and shuttered, little is known about the carefully-arranged world of Ethel Allen. We do know that she took the position of Secretary to the President as a matter of birthright, as she succeeded her father Ethan after his untimely demise in a firearms accident. There persist ephemeral and unsubstantiated rumors regarding her past work as a double agent. Ethel's managerial skills extend to her oversight of the Elsewhere Talismanic Object Appreciation Society, a motley collection of strange and unusual objects that are often rather difficult to categorize. Hailing from Vermont, Ethel is loyal and steadfast in her position as the noble black maple. She enjoys india ink, fresh sheets of blotter, and pancakes.
Burl Walnut (Board Chair).
The bossy head of the EPS cabinet, Burl is happy to tell anyone who will listen his opinions about philately and science, although his interests in the latter swerve into the fringe and unproven. To the relief of all involved, he is mostly hands-off in the day-to-day proceedings. Occasionally his memos to EPS staff will be written from a drunken haze, and have to be prudently edited by Ethel or Kaidan, or withheld until the board chair can explain himself.

   EPS #99: Experiments In Mail Reading (2011).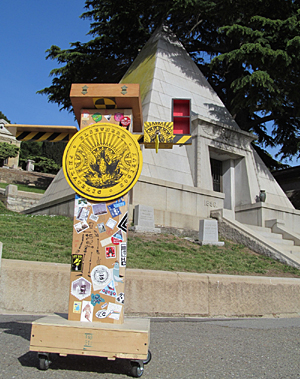 Phil Stafford IV (Cabinet member).
Phil is the staff lectern of the EPS and has gone through three major revisions. Originally built with eight-inch nails and a cardboard diapers.com box as a base, Phil now breaks down into three distinct pieces for easy transportability. Still no cup holder, though.
Doory (Cabinet member).
Doory is the official door of the EPS. Doors hold secrets behind them. Doors are made of secrets. Doors: secret.
Other cabinet members include K. Buta, Rose Chesterfield, Chaz Long, and Delarna Saknade.
Rabbithole Jr.
RHJ is a happy wayfinding mechanism with one large eyeball. Follow Rabbithole Jr. to seek out philatelicism in all of its wily forms.
Billy.
Billy is an envelope from El Segundo. He writes short-form poetry and has a very positive outlook on life. As a living envelope.

  Rare video of Billy entertaining crowds at Fairyland (2015).
  Billy fills out a form for the U.S. Department of Forms (2015).



Doory, Rabbithole Jr., Billy helps Postal Inspector H. Jackson.
---
Other known EPS sympathizers:
Sarah Billet.
Sarah Billet is a longtime friend of the Philatelic Society. She worked at the Underground Library as a page in the late 1960s and was the original staff liaison for the Elsewhere Talismanic Object Appreciation Society. She was frequently the loudest advocate for the collectors with the trustees of the library. In 1972, she was fired from the Library, allegedly for allowing a patron to deface an original copy of "Flatland: A Romance of Many Dimensions." Though she frequently takes on projects of philatelic importance with many of the senior letter carriers and cabinet members, she has actively resisted joining the society in a leadership role. (She and Burl have had words on more than one occasion about this, but she maintains that collections of many types have value, even if she herself prefers stamps and letters.) She enjoys jazz music and good brown liquors.

   History of the Elsewhere Philatelic Society.

Hera Leadbeater.
"Hera Leadbeater is the apothecary's 6th Generation Alchemist. Our experienced apothecary staff is committed to your individual needs concerning your wunderkammer and your over-the-counter philatelic prescriptions. There is no need to go to a Chain Store as we do operate a mail-order service through Greater Chicago. Our oracular senses and attention to astronomical detail sets us above your hedge witches and mundane shamans." For a catalog, send a business-sized self-addressed stamped envelope to: The Elsewhere Apothecary / 2317 W. Haddon Ave. Ste. 3F / Chicago, IL, 60622, U.S.A.

   EPS #99: Elsewhere Apothecary advertisement (2011).

Parcel Ghost.
A devoted postal worker in a past life, the Parcel Ghost is an enthusiastic spectral presence in a mailbox near you. Parcel Ghost is a knowledgeable resource on the ins and outs of mail requirements and standards, and delights in dictating letters and postcards to be sent to friends all over the world. In his retirement, he has enjoyed catching up on his programs and traveling, although rarely by airplane because the dry air is bad for his vapors. His favorite food is nothing; ghosts don't eat.

   Parcel Ghost in Post Office Square (2015)

Dr. Ytterbium Glitterbug Bedcannon (PhD, MSIE, RHMS).
A collector of curious and otherworldly wonders, Dr. Bedcannon is a self-styled professor and curator of "xenoterric artifacts" who will push his theories and treatises upon anyone who will listen. After numerous attempts to impart his scholarship, install his collection of curios within the institution, and one instance involving making Lick and Lather (Janine Antoni, 1993-1994) into a participatory piece, SFMOMA was forced to put a restraining order upon him. However, in 2012, working with Sarah Billet, his walking tour covering the Xenoterric properties of artworks in SFMOMA's permanent collection was slipped in under the guises of the ArtGameLab project. A member of neither the EPS nor the ENS, his work occasionally touches upon their respective fields.

   Bedcannon's Xenoterric web page (2012)
   The Peculiar Scholarship of Dr. Bedcannon (2012)
   Dr. Bedcannon's Address (2012; video)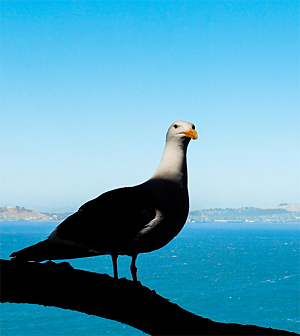 J. "ArfARF" McNabb.
A slightly surly seagull who volunteers for the highly-respected Sea Sentinel Corps, a group of vigilant birds that endlessly scan the ocean for Things Unspoken. ArfARF loves fish, ice cream, and is a bit obsessed about french fries along with the number eight. ArfARF was a phone phreaker in the distant past and can warble carrier tones in perfect pitch; this is how ArfARF ended up being hired by StarTELEWEB (@starteleweb; StarTELEWEB). ArfARF sometimes expresses a bit of work disgruntlement by messing with the various public faces of StarTELEWEB, incorporating spelling/semantic errors and such. It is difficult to tell where ArfARF's meddling ends and the company's real core incompetence begins. ArfARF will occasionally slide the EPS a discount on StarTELEWEB contracts/services/cake on the "down low" (shhhh), so the EPS unfortunately remains yoked to StarTELEWEB for now.
---
Mailman Ted photo by Jessica Nguyen
Jimmy at Pier 39 photo by KayVee.INC
Mailman Miek/Timothy first above-ground meeting 2010 photo by Duckstabd
ArfARF on patrol photo by Kai Morgener