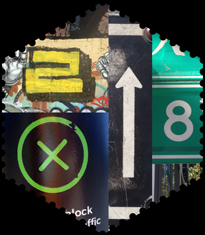 sase/zine #100 • retreaty • distancego • bands • sase/zine #101 • welcome video • reexamine • stamps • sfgate
stamps • etoas • journals • ad • etoas 2 • follies • remyween • dia de los muertos • bulbs
2018 March 24. Crazy 4 SASEs, EPS Zine #100. EPS members received this mailing if they signed up for the "Crazy 4 SASEs" SASE service. You can also find larger images at the SASE #100 page.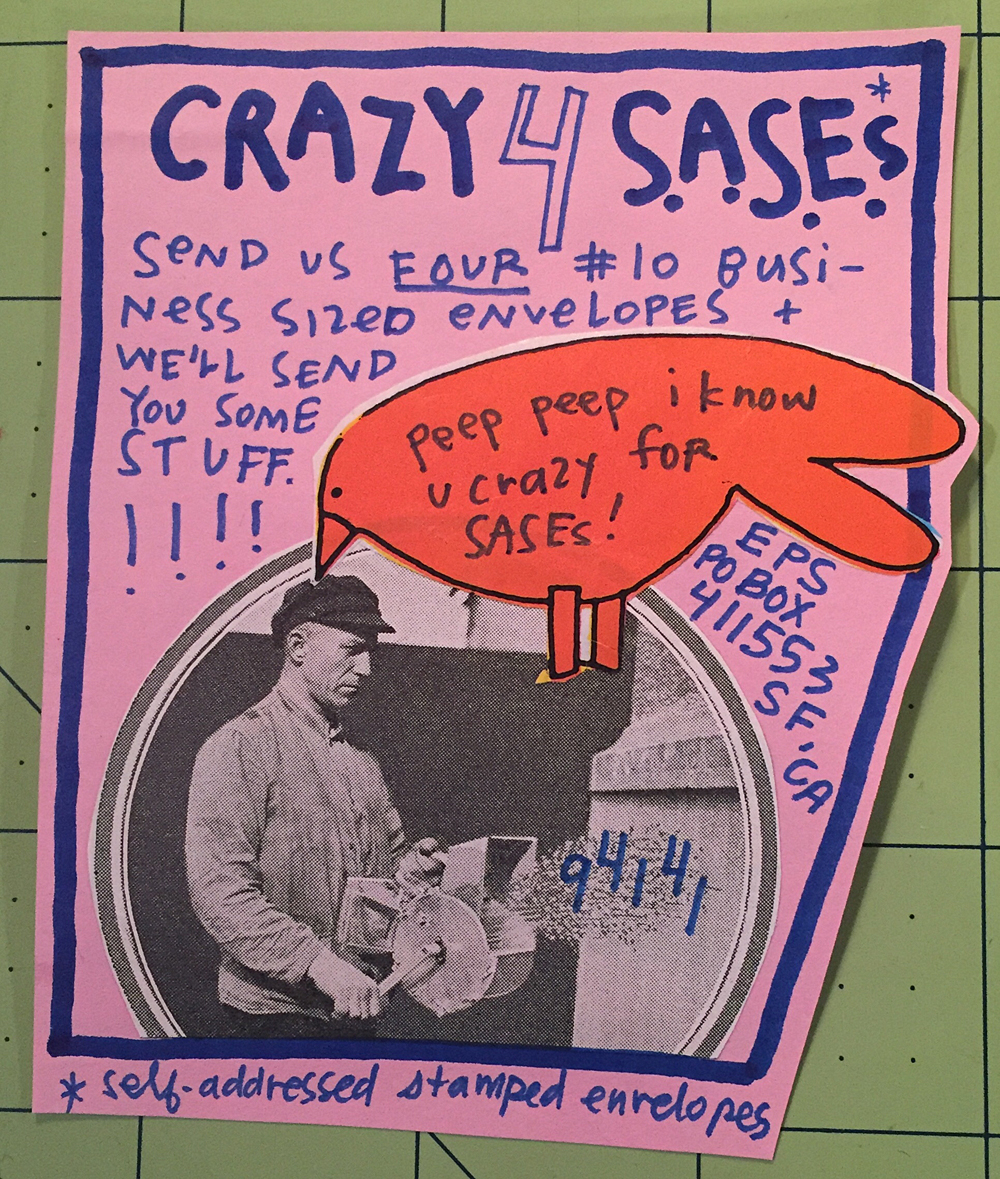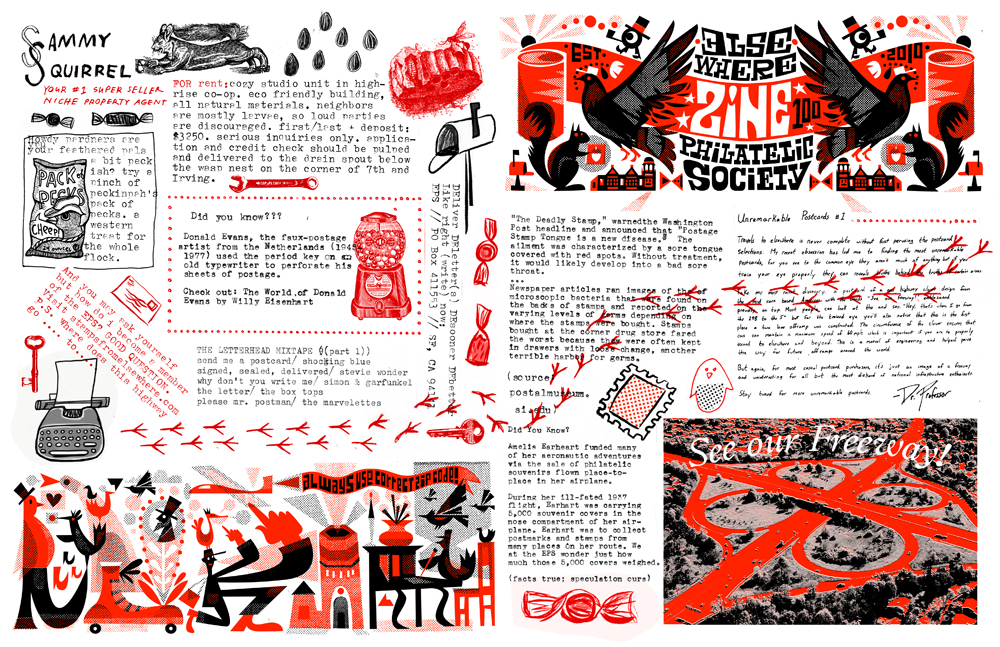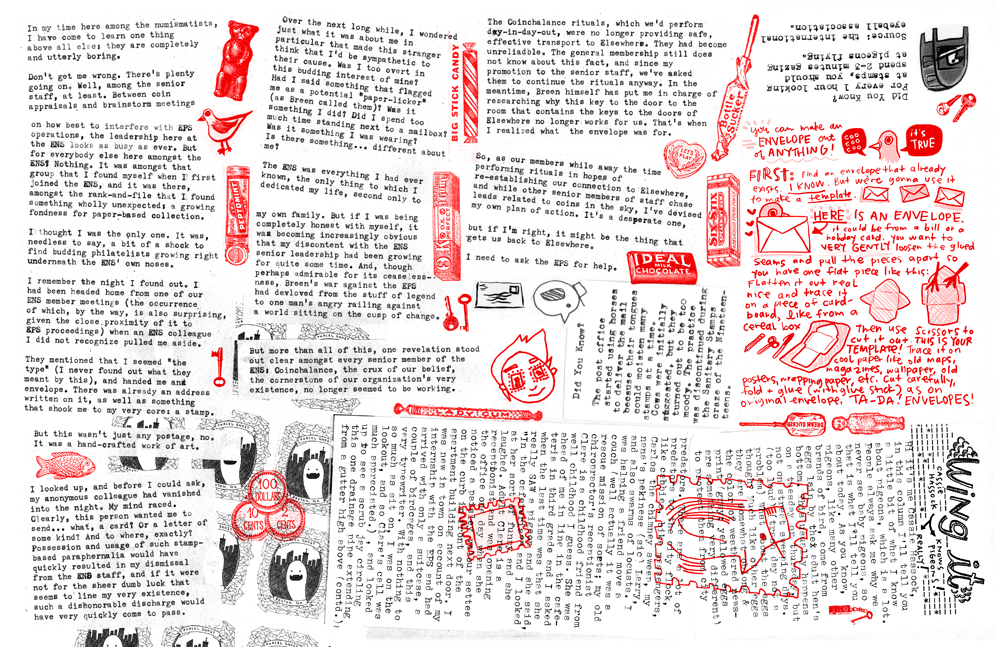 2018 April 22. Retreaty. The caretakers of the Elsewhere Philatelic Society needed to take a moment away from the hustle and bustle of the city to relaxorate, eat tasty snax, look at horses and consider the future. Special thanks to Dr. Phallafel for providing the space to do so.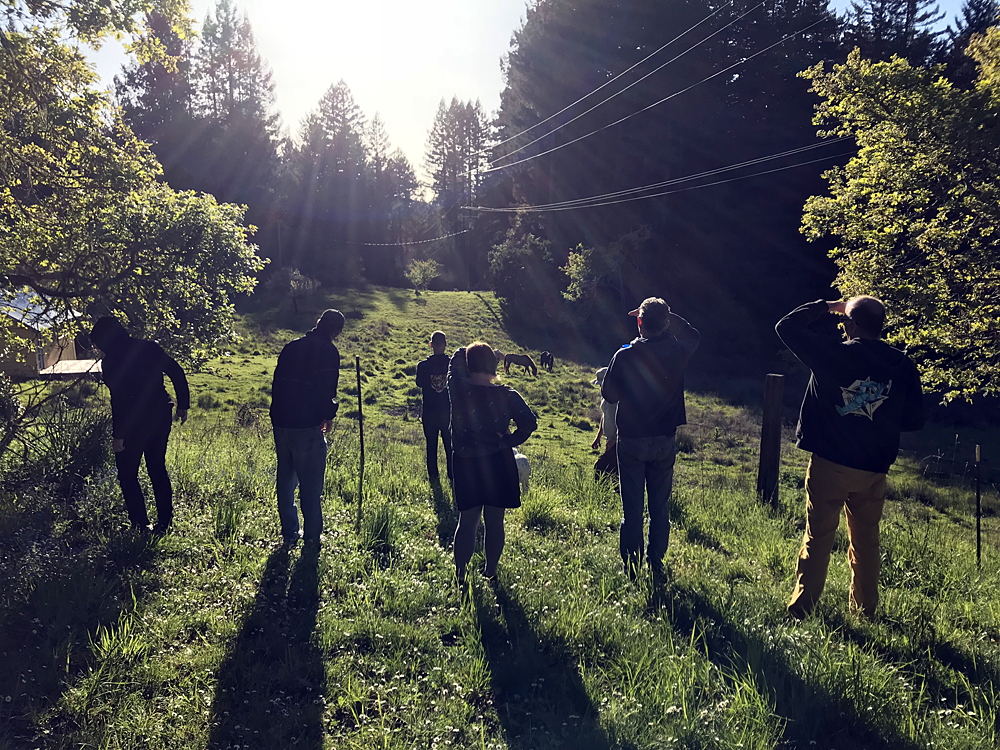 2018 April 29. Distance GO! We were lucky to reopen the stamp window for Distance GO! This event utilizes the powers of MUNI train transportation in San Francisco to connect us to some of the more interesting personalities in the city. Awaiting us was Dr. Professor and Anthony, who made sure we were equipped with everything we'd need to be successful that afternoon. Once they gave us our map and a few words of luck, we were off!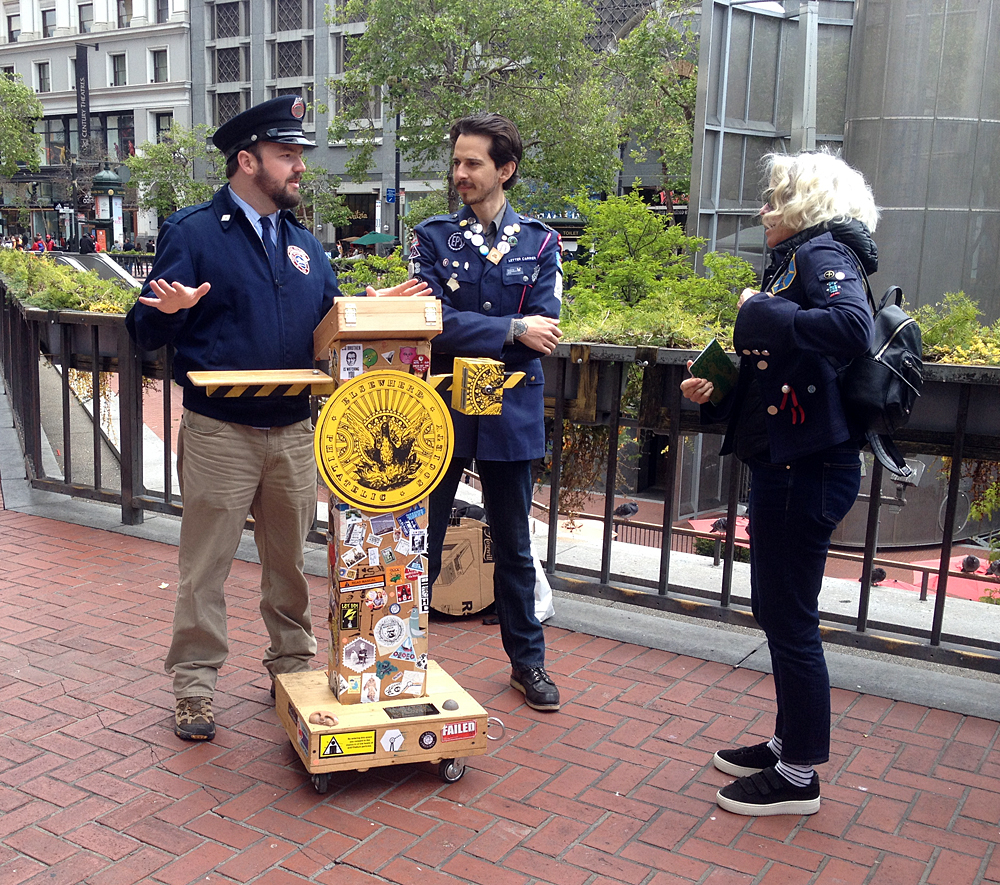 Our first stop was meeting the order of the blind cave spider. The two were locked in a competitive game of (Distance) GO fish! After aiding each of them, and helping them plan an appropriate strategy they thanked us by handing over the first stamp for our map. One down, four to (distance) go!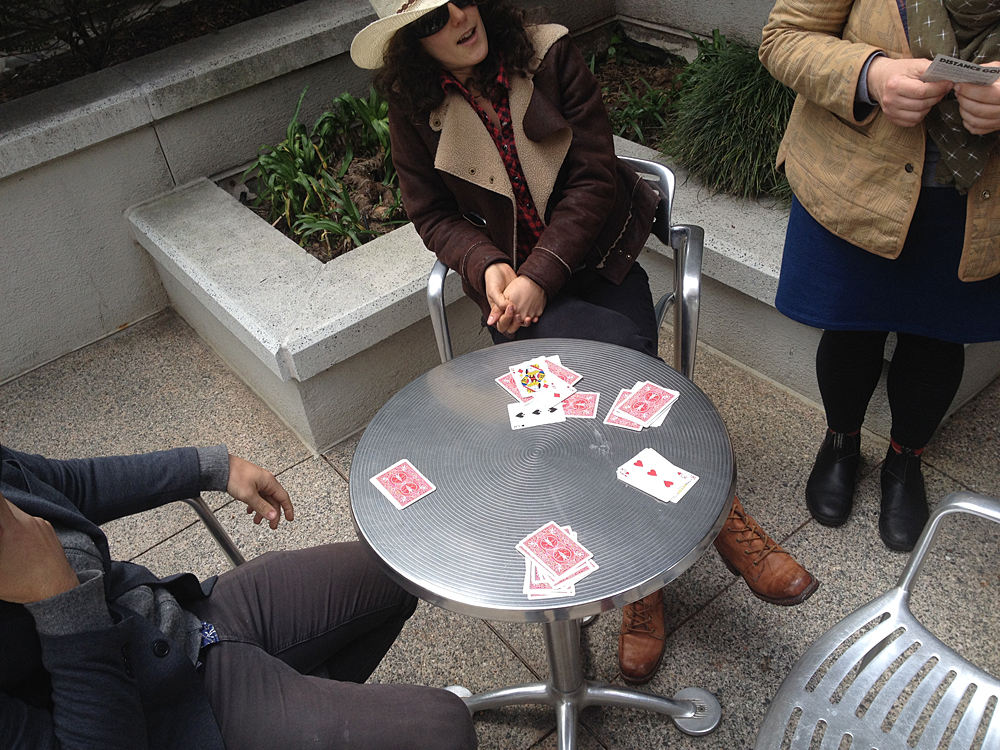 Our second stop found us face to ... bolts with a mad scientist and his robot companions. He seemed to be having some difficulty getting them to communicate. We gladly offered to lend a hand and soon found ourselves teaching them the fine art of human interactions. After teaching them how to fist bump and high five, we then had to beam the information back to his lab via Sutro Tower; this involved some fancy movements and awkward poses with a large transmitter device. The professor then thanked us and we had our second stamp.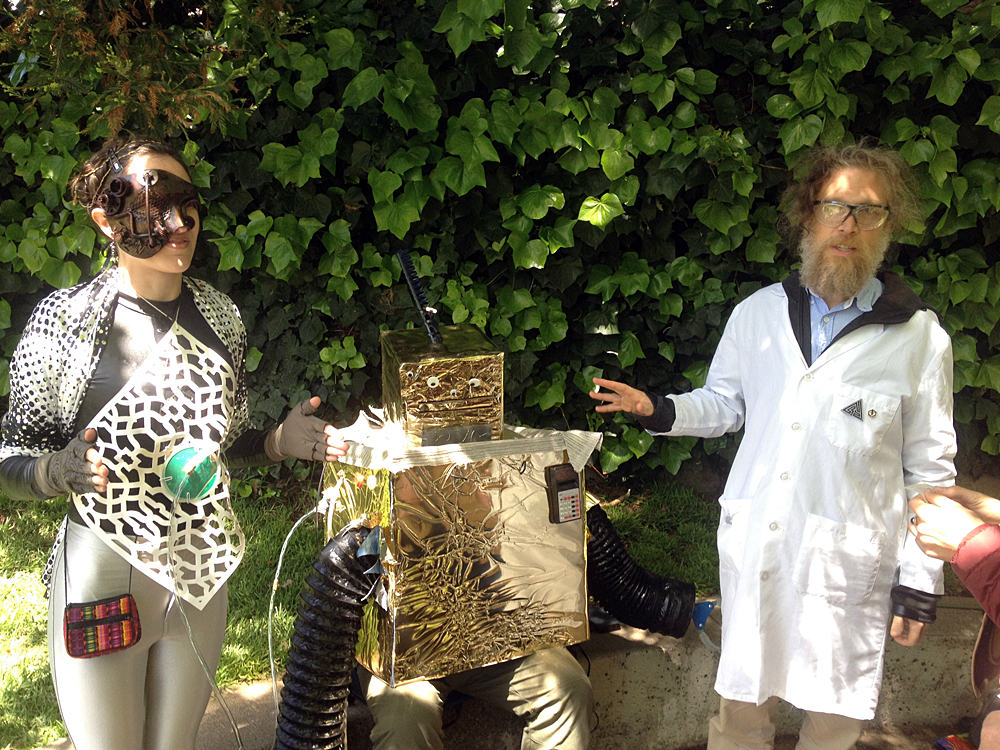 At our third stop we found ourselves with an eager fortune teller / bubble tea connoisseur. She was excited to meet our group and immediately wanted to know more about each of us. She instructed us to pick up a cup of tea and blow through it for answers to questions we had stored deep in our minds. Questions such as "how much money will I make?" (I believe I will be making at least $2 in the next year) and "how much love I might find?" (a hopeful, giant bubble which popped before taking flight).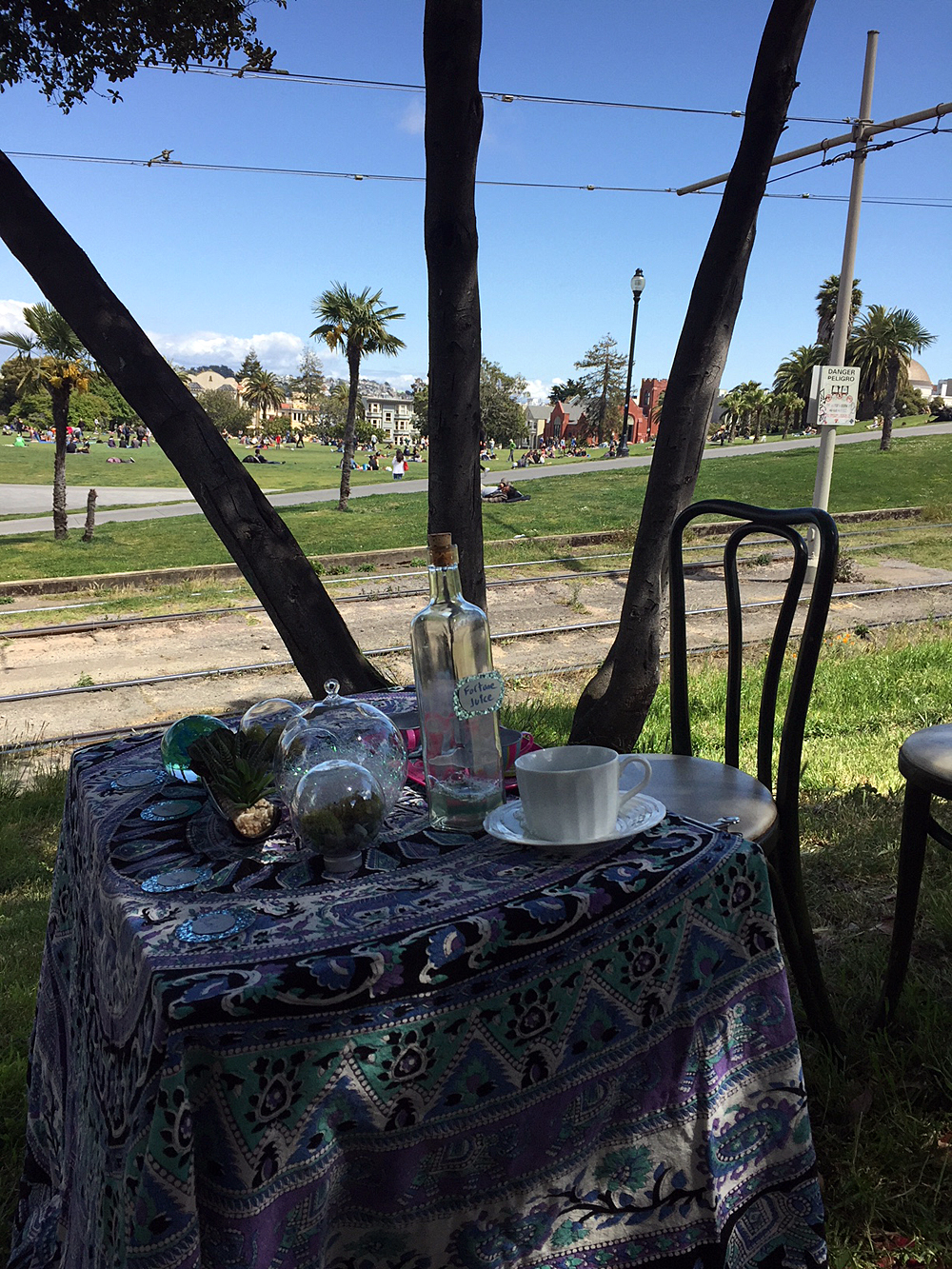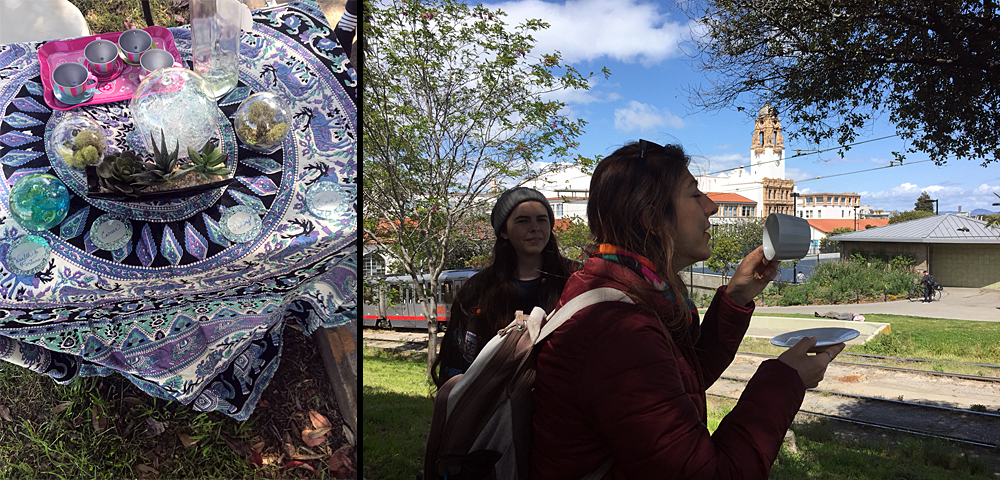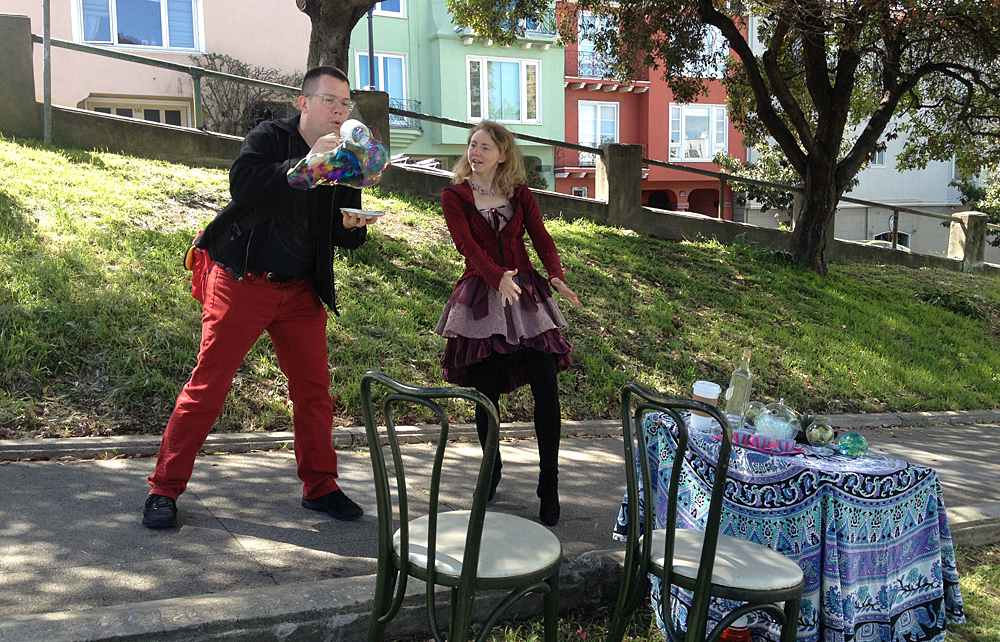 For our fourth stop, we were introduced to Ched and Brie, a pair of mice who had been dealt an unfortunate situation ... their precious heirloom copper cheese platter was missing. The mice had a very important question for us: could we, perhaps, help them find their missing platter? They had a similar platter to show us, and some very small posters that we could put up which would help get the word out.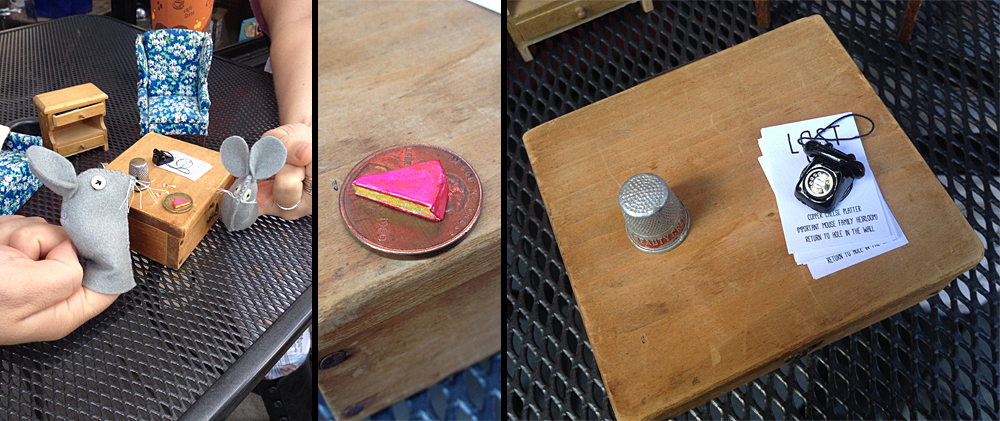 How could we say no? So we said yes. The mice also had a roll of double-sided sticky tape that was apparently very expensive, so we were instructed to go easy on it. We each taped a poster in places we thought it might catch some attention.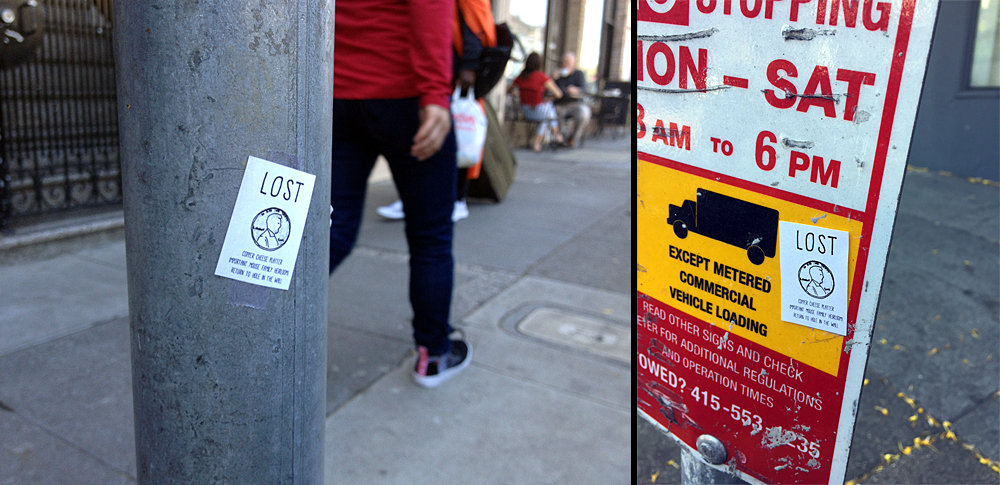 We returned with a photo of the posters applied with careful hands in a prominent location in the middle of a popular, high-traffic area and by then they had finished their wine. The relieved look on their faces was well worth the labor involved, the situation with the sticky tape being way too sticky, the logistics, time invested, and so on. They were so happy with our work that they awarded us a "Distance GO!" stamp which was fortuitous since we were looking for some.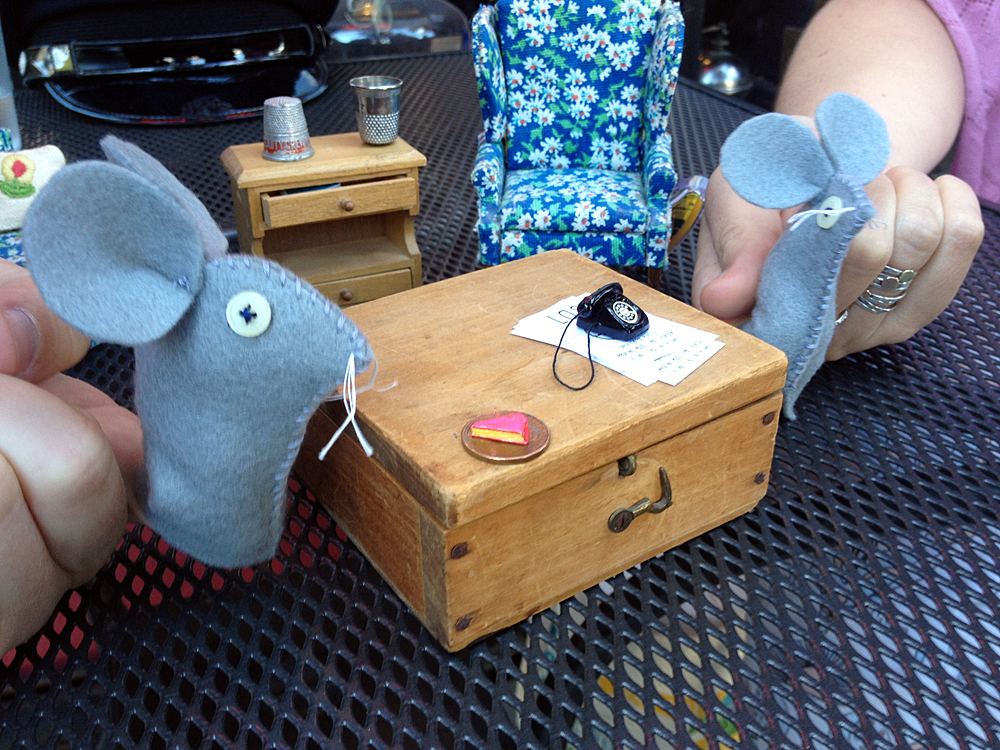 Then we immediately reported back to Dr. Professor, who then gave us a special fifth stamp since we had acquired the entire set. Yay! A grand day out.
(additional photos by Squidkid & Cassie)
2018 May 19. Extravanganza of Bands.
2018 June 18. Crazy 4 SASEs, EPS Zine #101. EPS members received this mailing if they signed up for the "Crazy 4 SASEs" SASE service.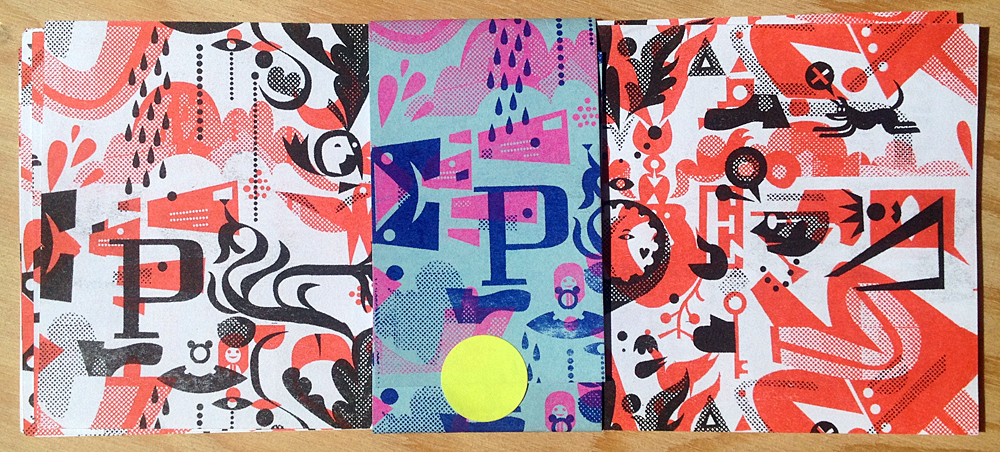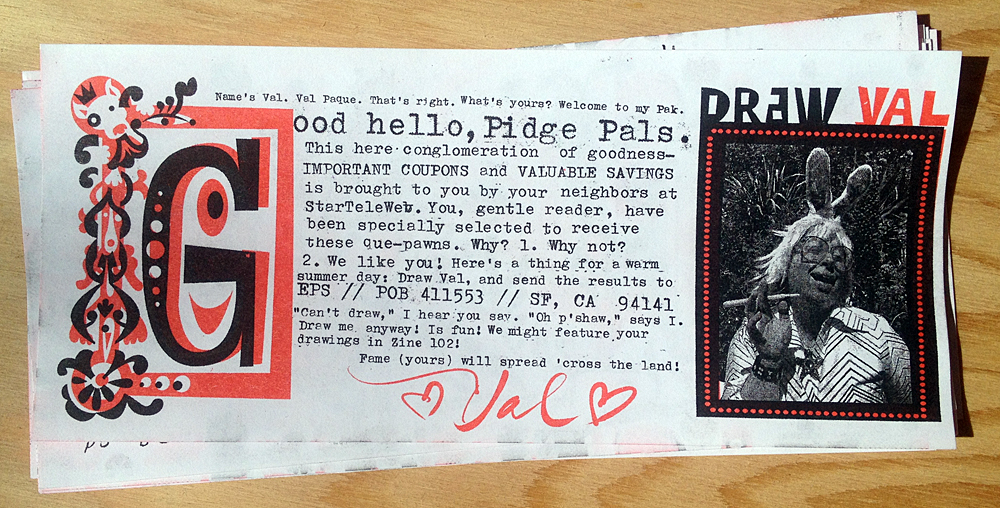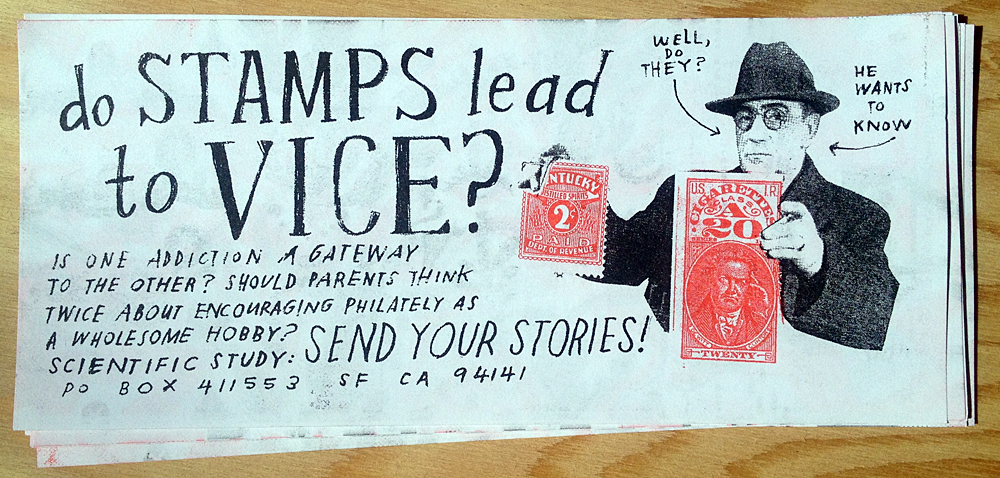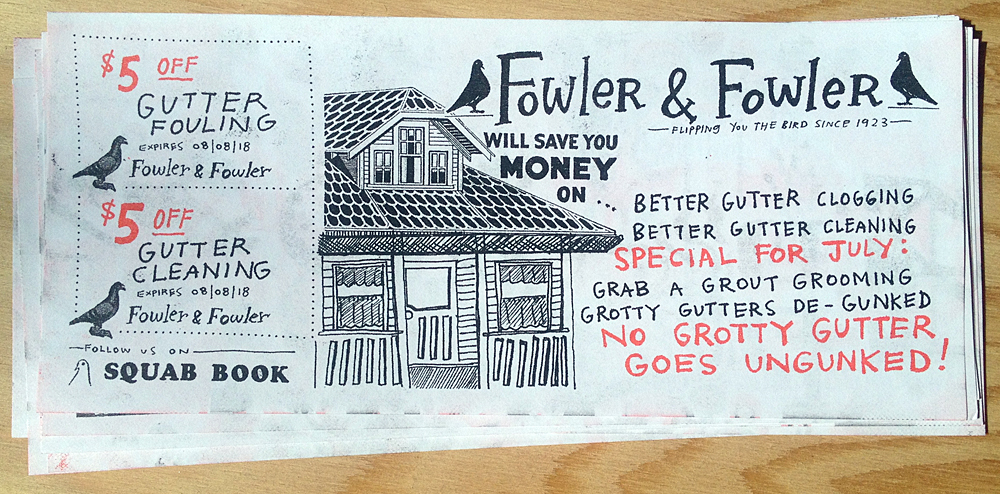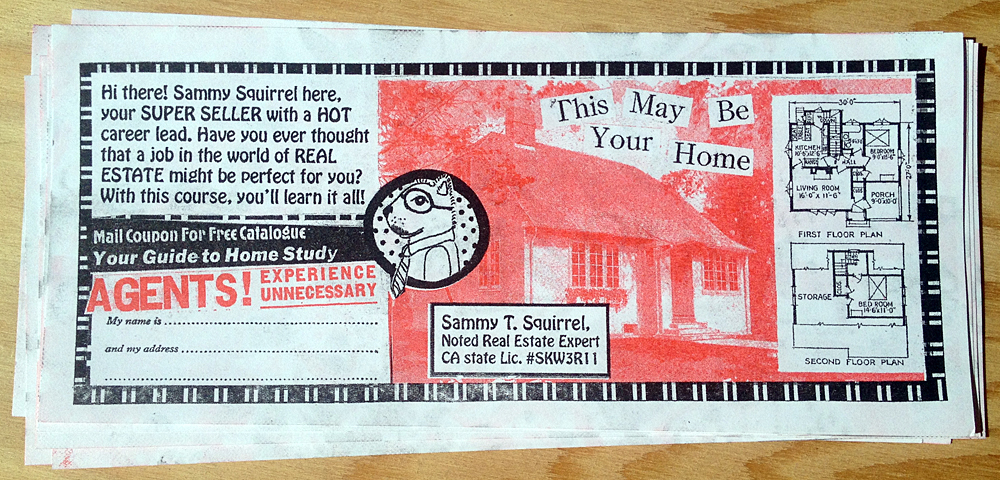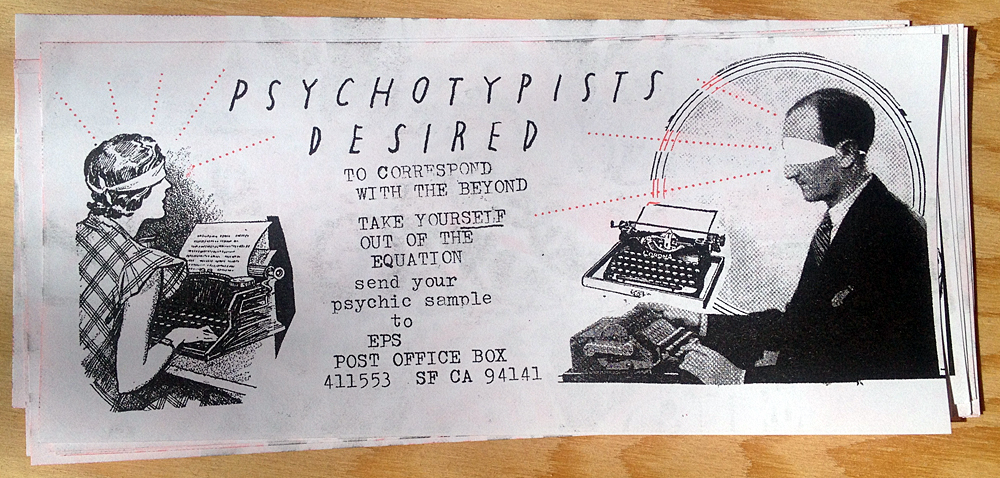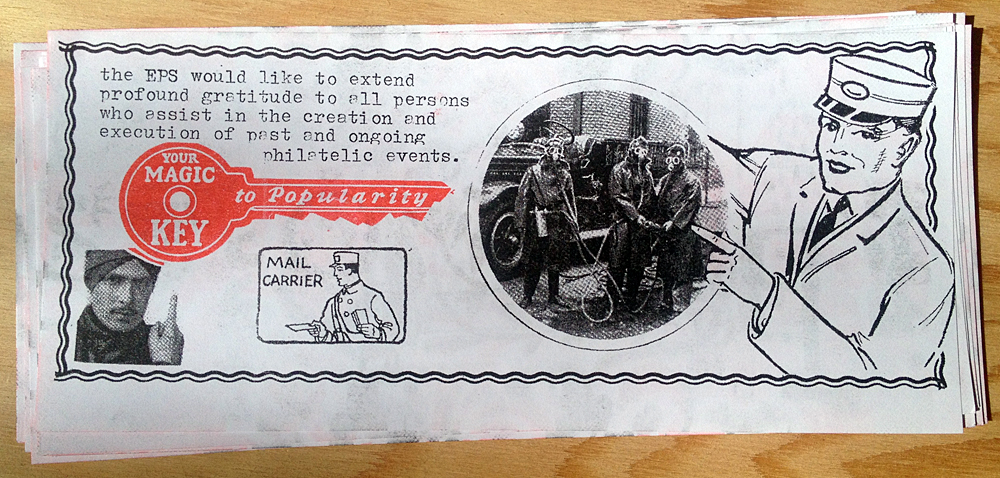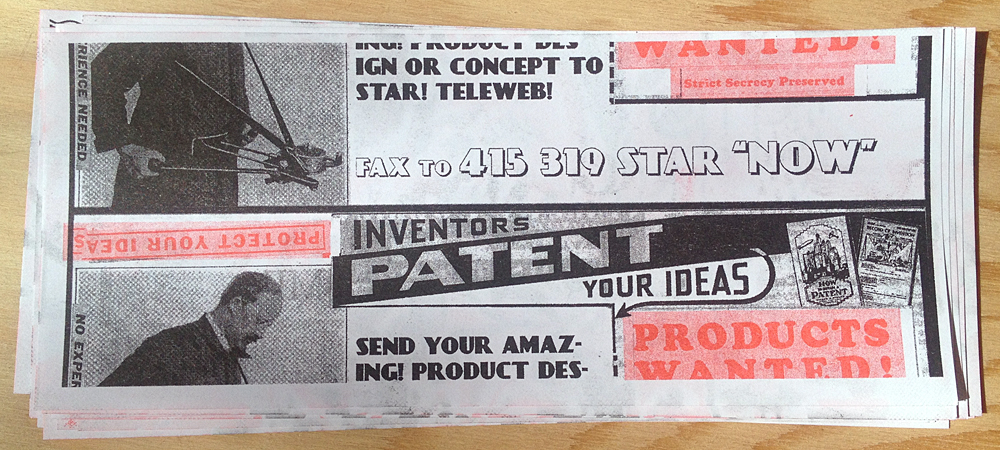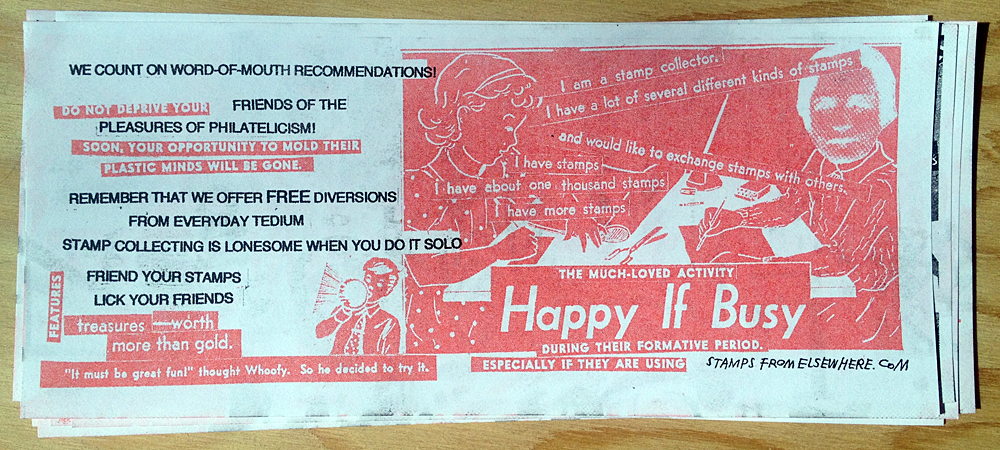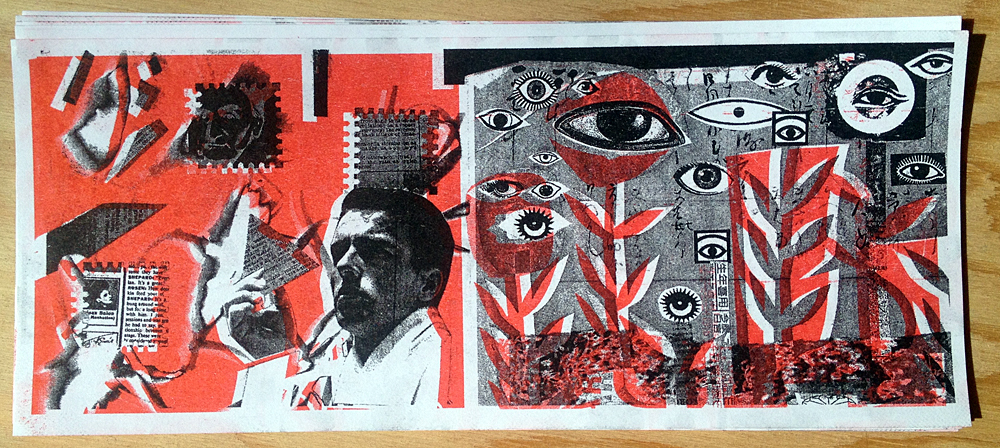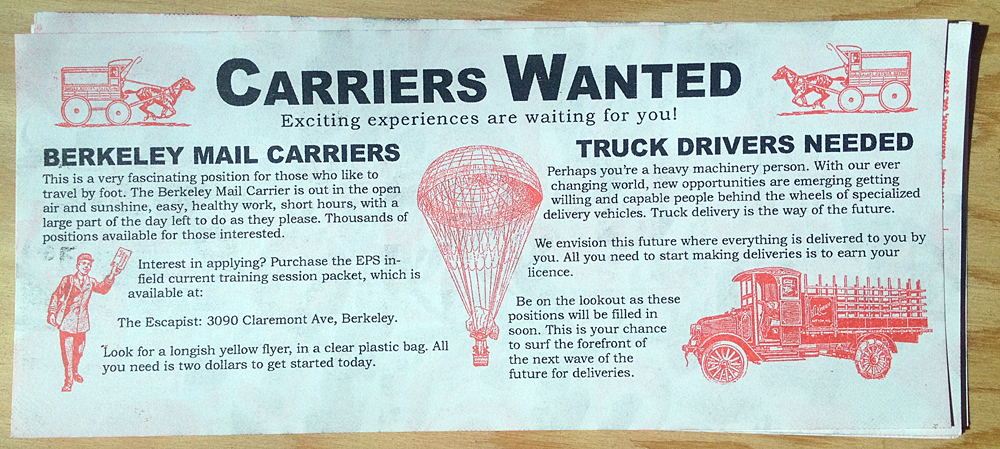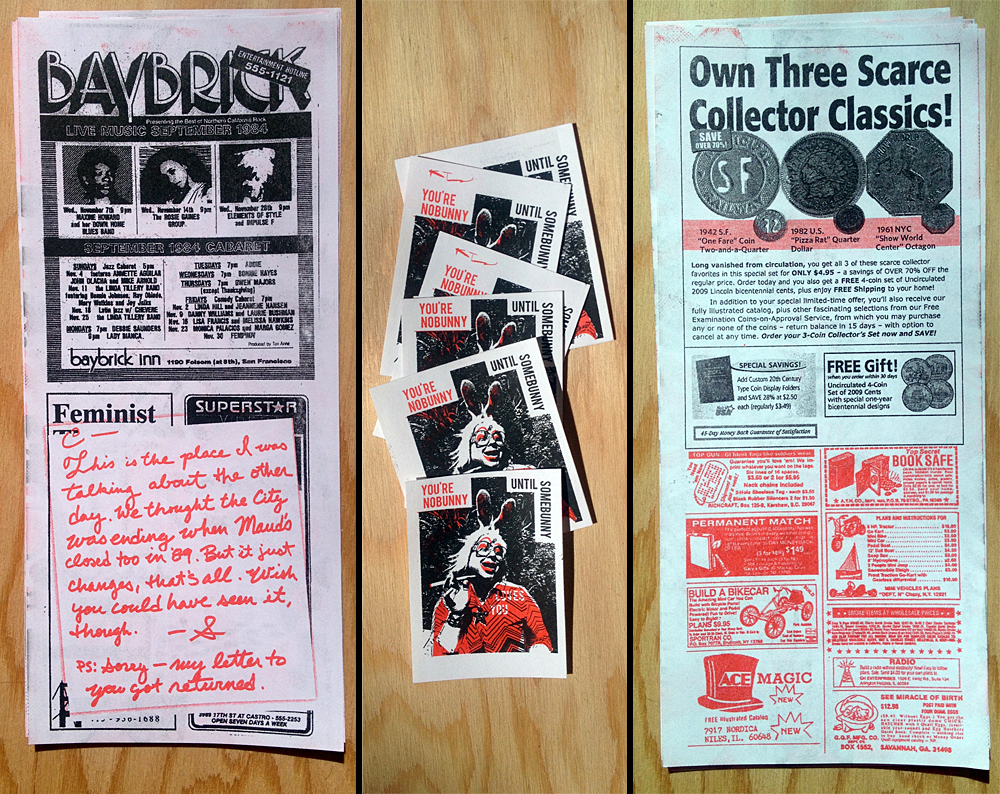 2018 August 7. EPS members quickly sent in their own drawings of Val Paque.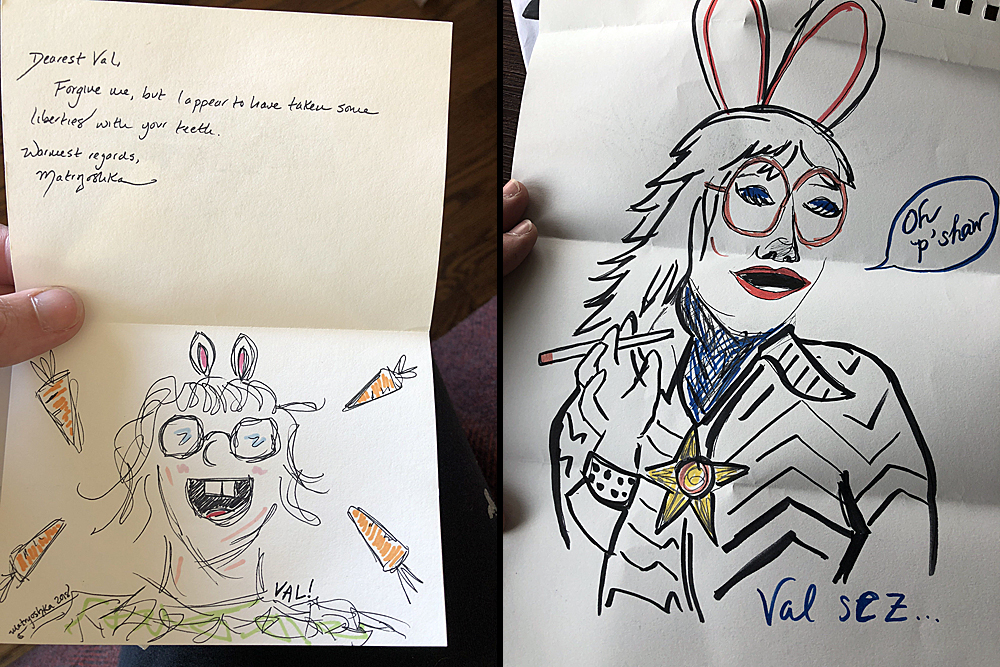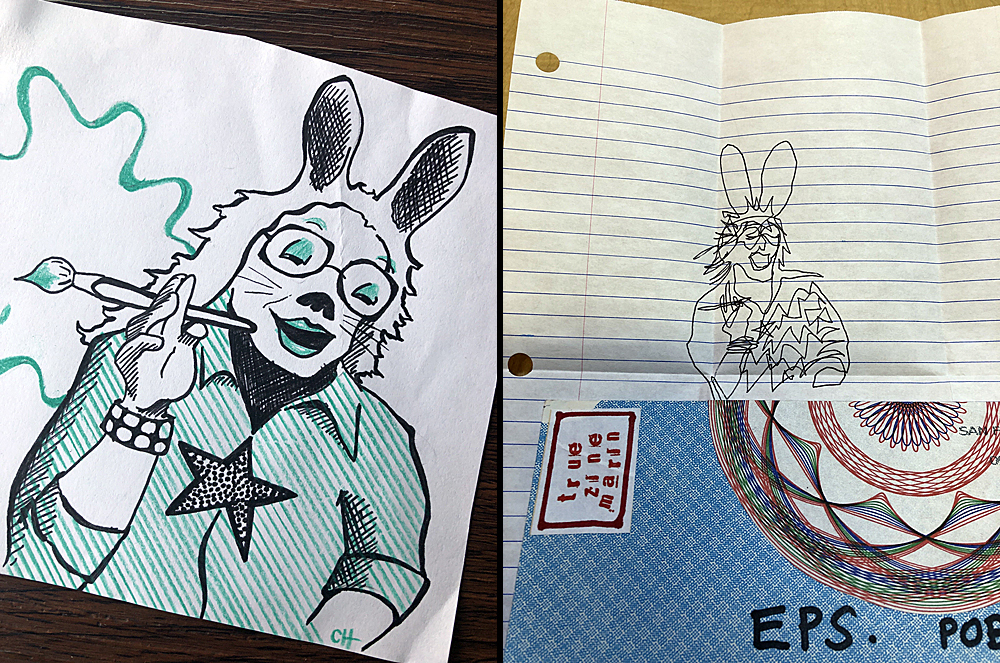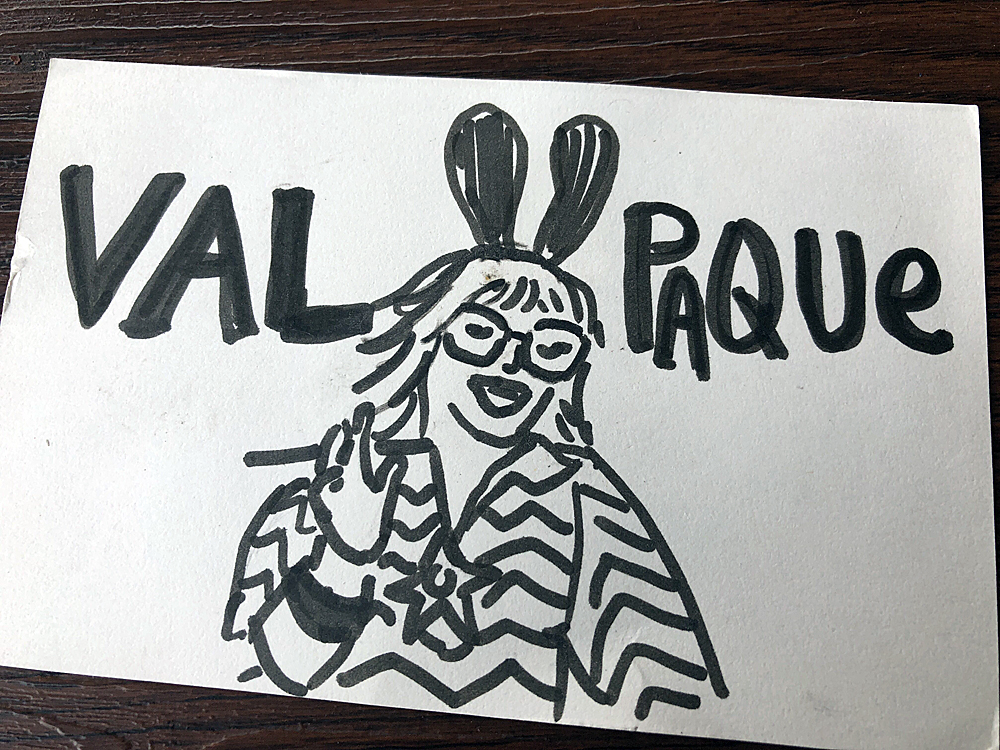 2018 August 9. How To EPS w/Mailman Miek!
2018 August 11. Walkabout Revisitation. "Have you lost touch with your lick-and-stick roots? Have you forgotten where you truly come from? Do you have friends who accuse you of joining an art cult? / Then this is the stamp window for you." Special thanks to MacKenzie and Tyler for hosting the Revisitation Stamp Window.
2018 August 11. Stamps submission: Lark.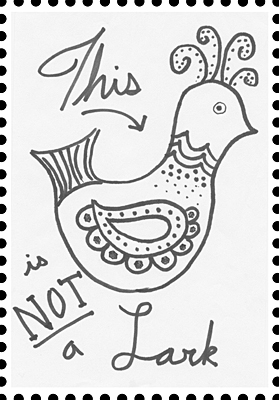 2018 August 31. Media coverage in the SFGate electronic paper outlet.

2018 September 7. Stamps submission: Richelle M.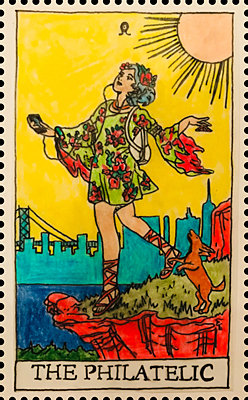 2018 September 17. ETOAS submission: Bioforce globes.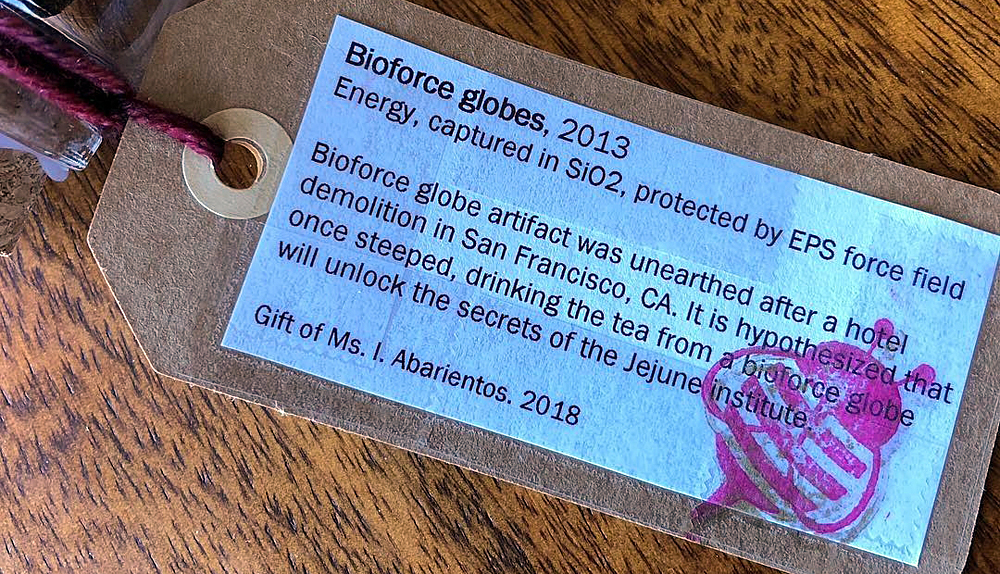 2018 September 22. Journals created by EPS members.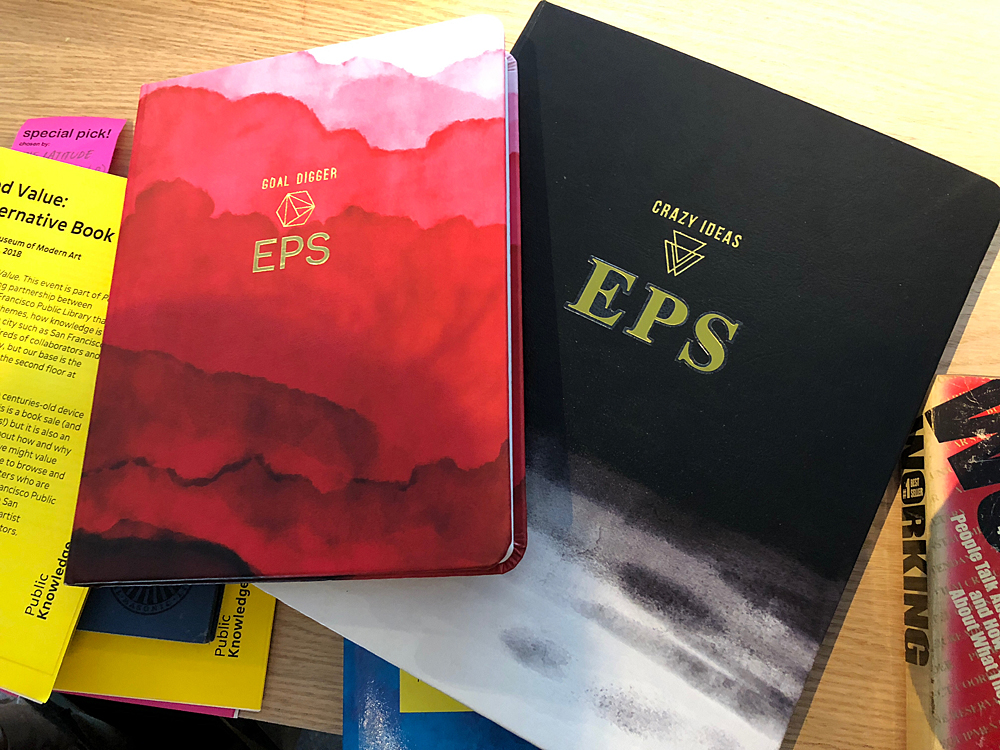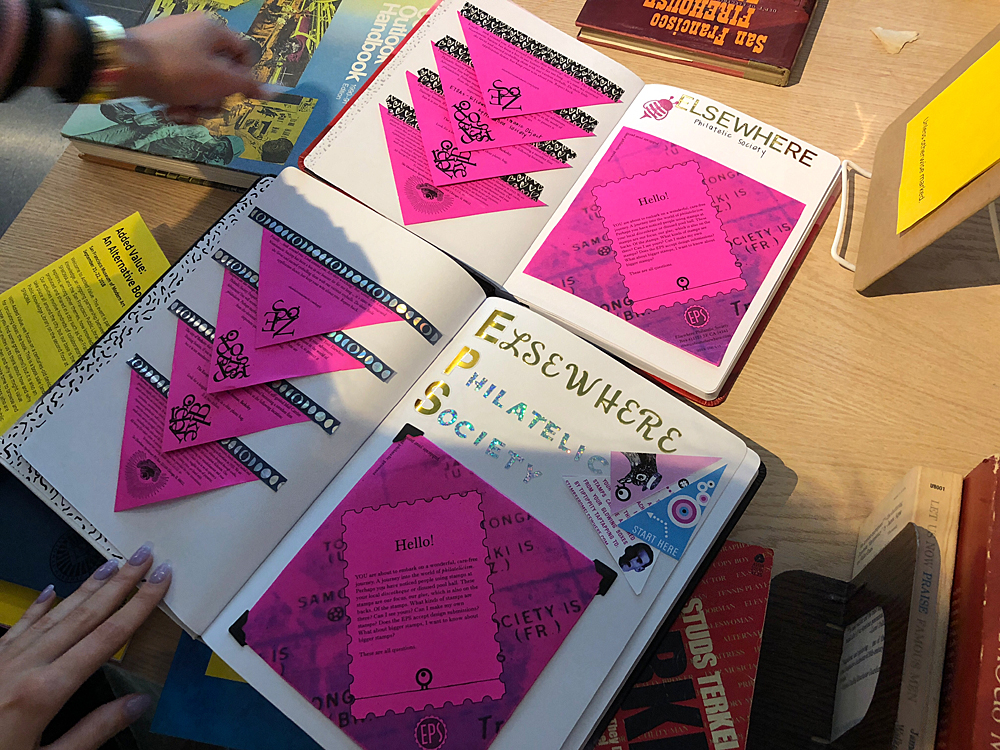 ----------------==== ADVERTISEMENT =====-------------------
StarTELEWEB presents STarTELEWEB:TELESHOP StarTELEWEB features a wide array of products and services for your "onthe-go" lifestyles. You are only moments away from a better, completely shopping experience!
2018 October 1. ETOAS submission: Evidence.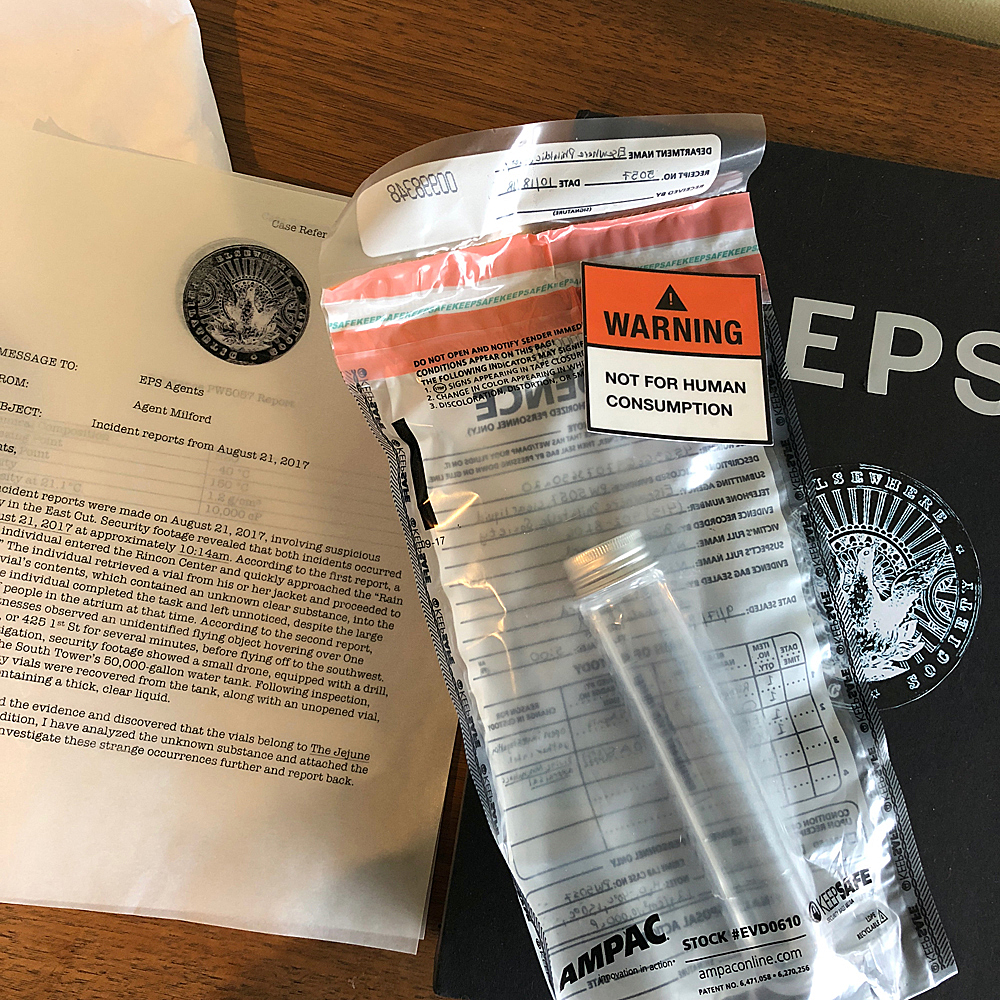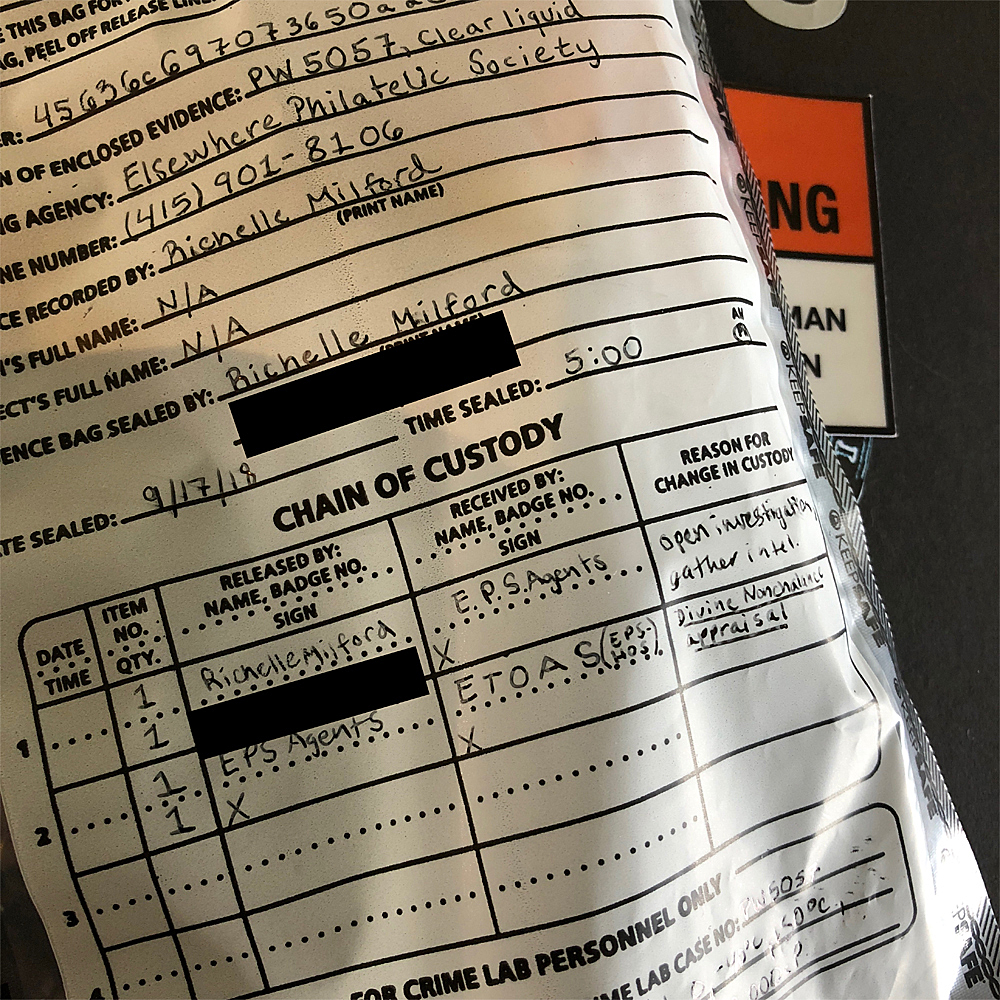 2018 October 31. Driveway Follies is a yearly, elaborate puppet show hosted at a highly-decorated Oakland residence. The EPS asked if we could set up a small station nearby and we were kindly welcomed. Please see this informative Atlas Obscura article/interview for more information, or visit the Driveway Follies site.
Doory trundles down the street on the way to Driveway Follies.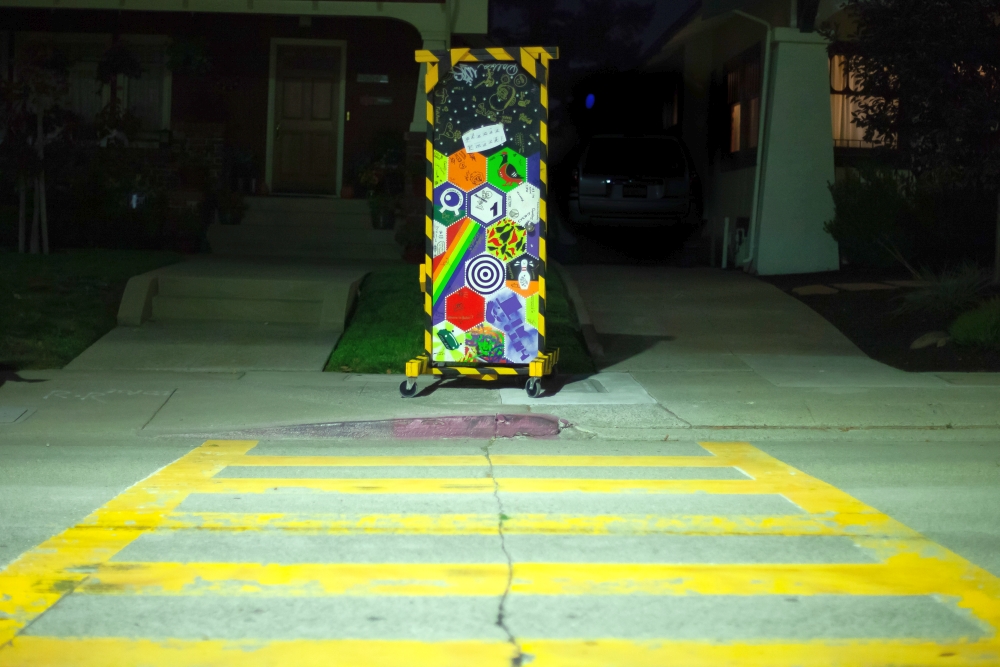 Doory sets up shop. What is behind the door that is the key to the doors that unlock the keys to free candy?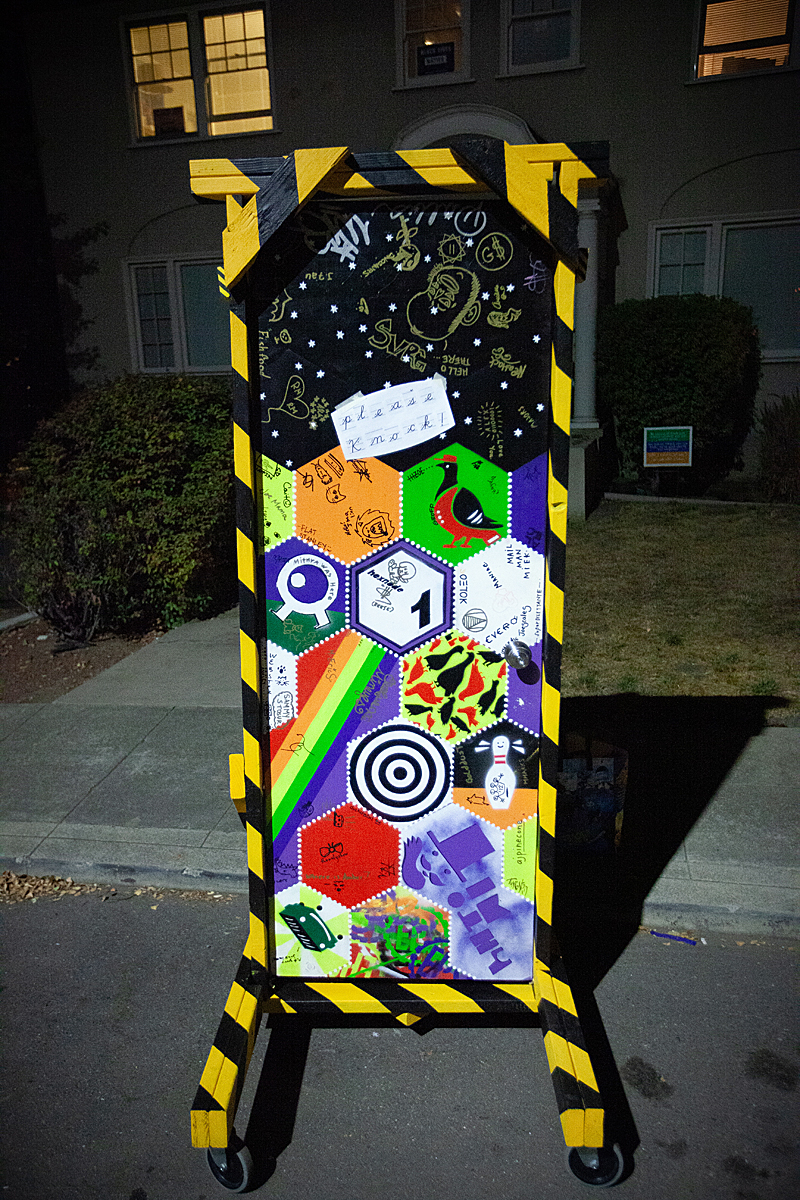 Mailman Miek set up shop next to a nearby shoe repair store to guide people to Driveway Follies and give out commemorative stamps.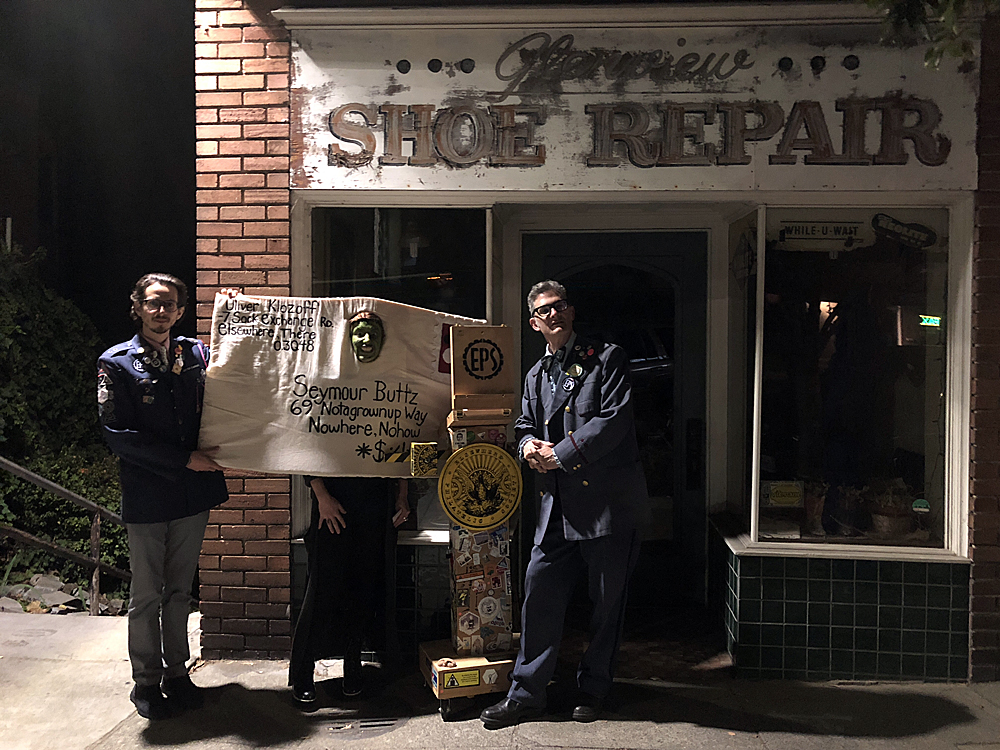 Many of our members reported seeing ENS agents performing an unusual coinchalance ritual involving circles of light in the darkest places of the journey. Then again many of our members reported seeing clowns on scooters, so take of that what you will. Meanwhile, Val Paque distributed candy to EPS members and random visitors alike.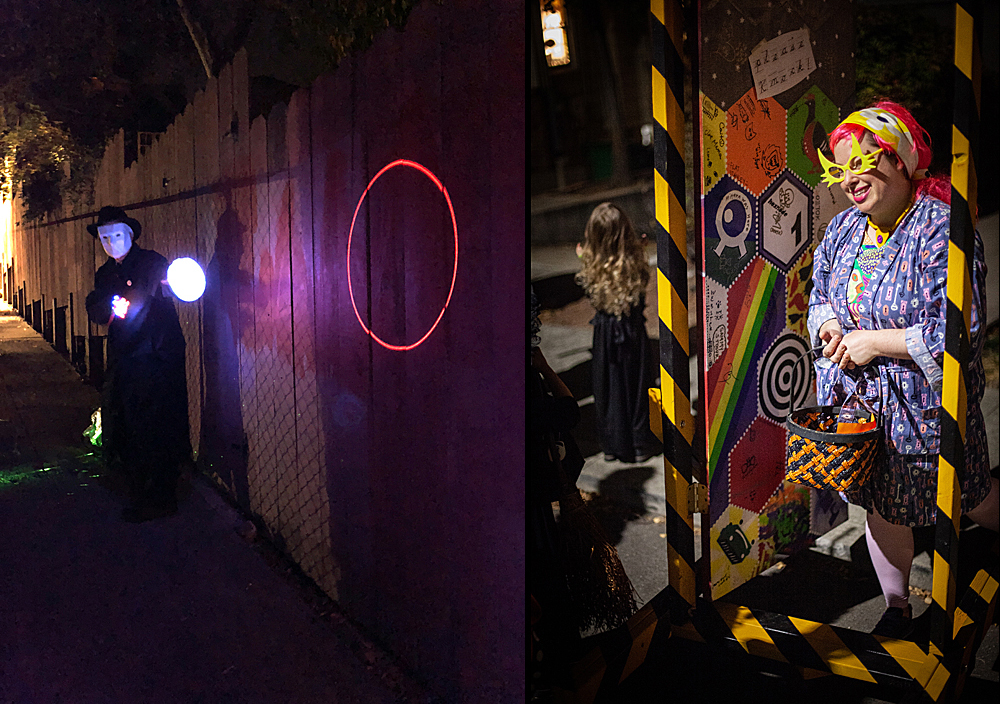 A good handful of random people paused before knocking on the door. Is this a thing? It was a thing.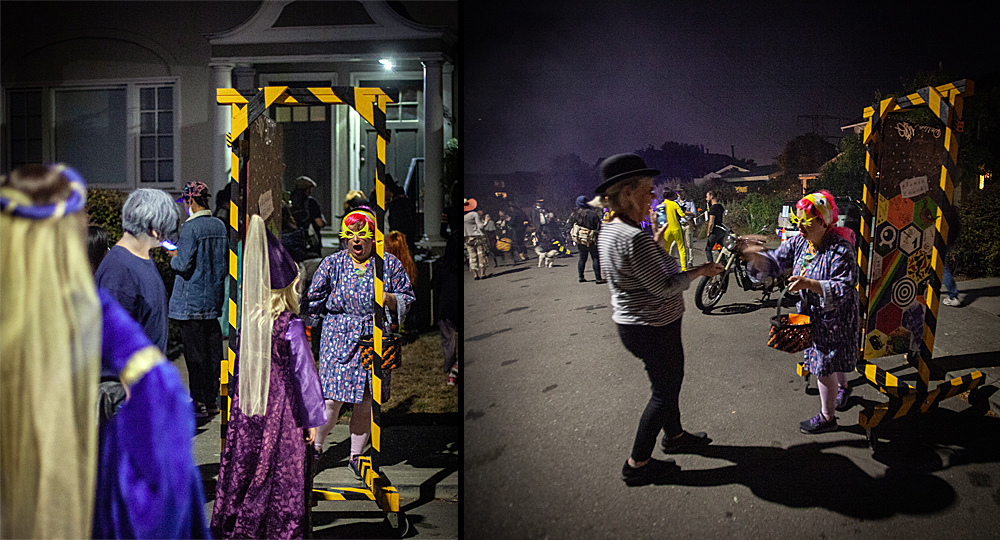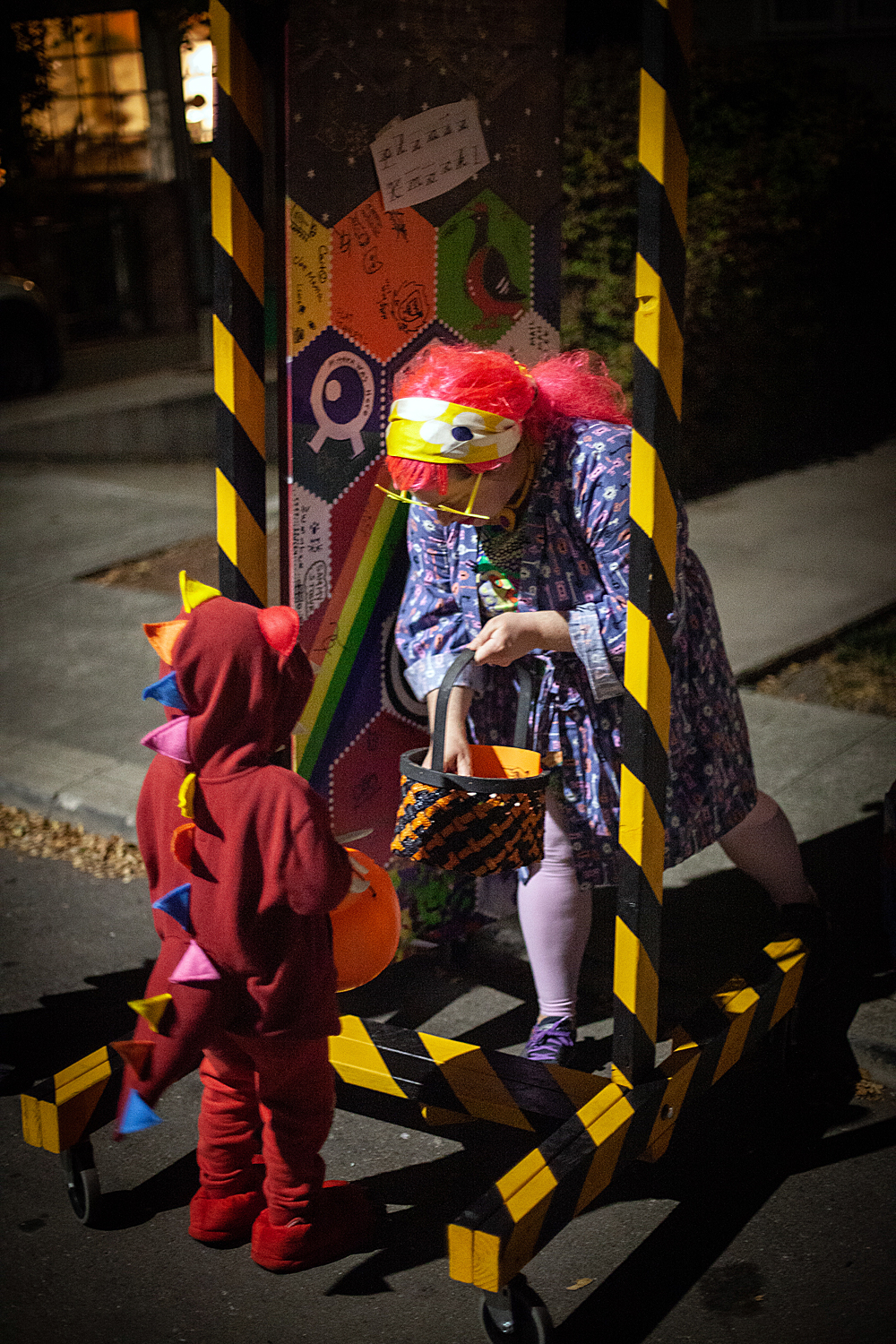 One small girl wanted to knock on the door because she was fascinated by it, being a door in the street where doors are not supposed to be, generally. She didn't want any candy ... just wanted to knock.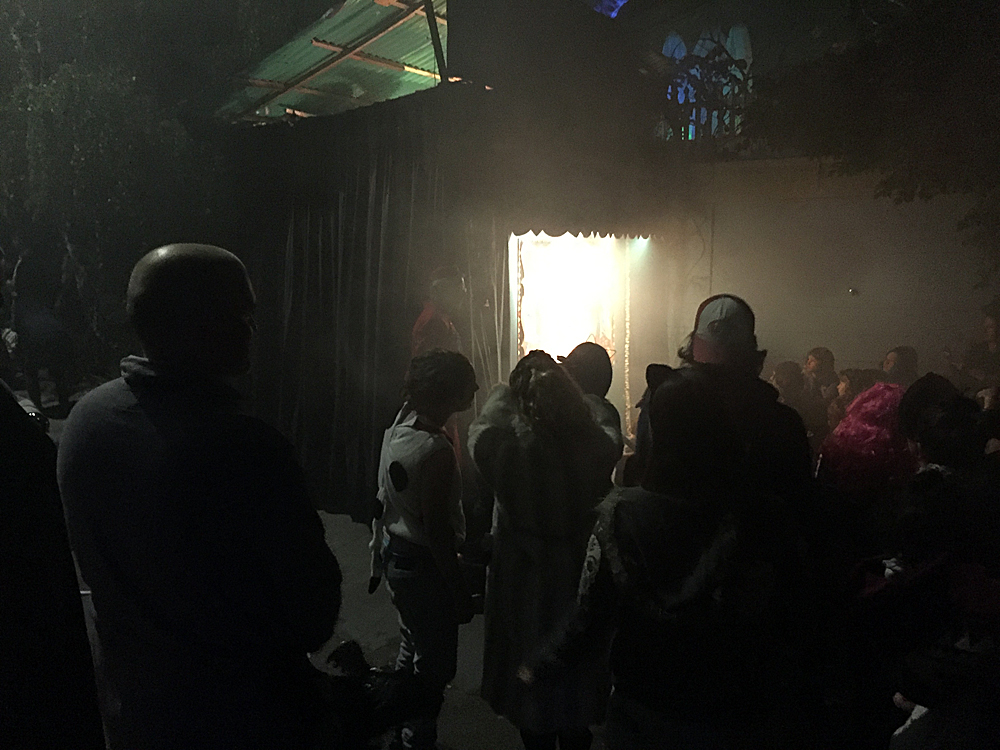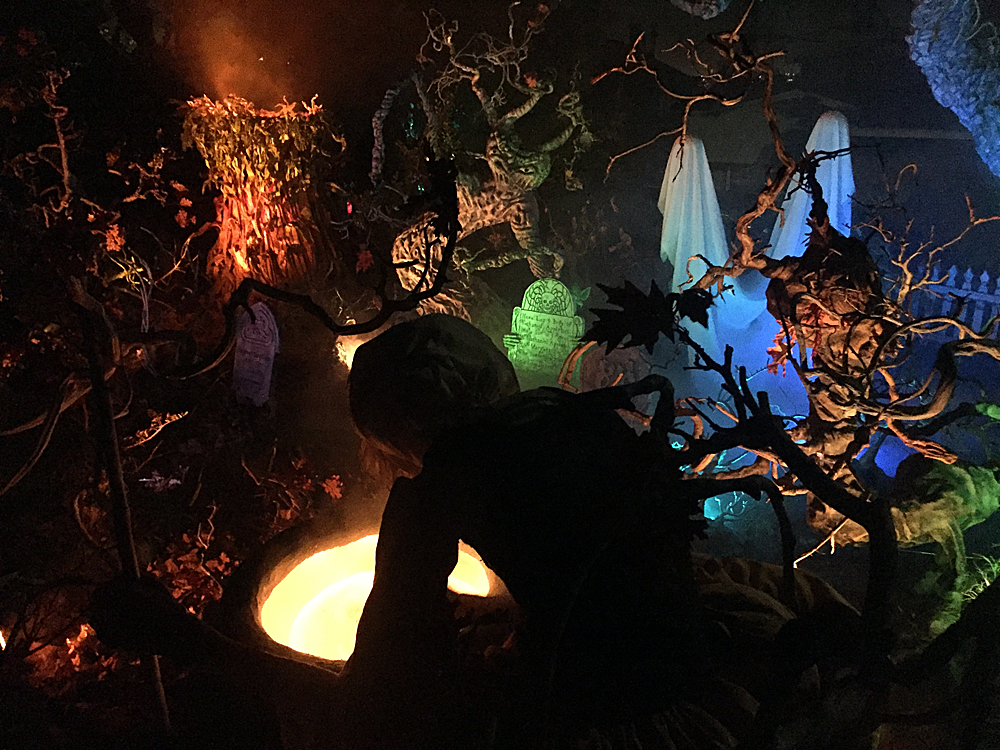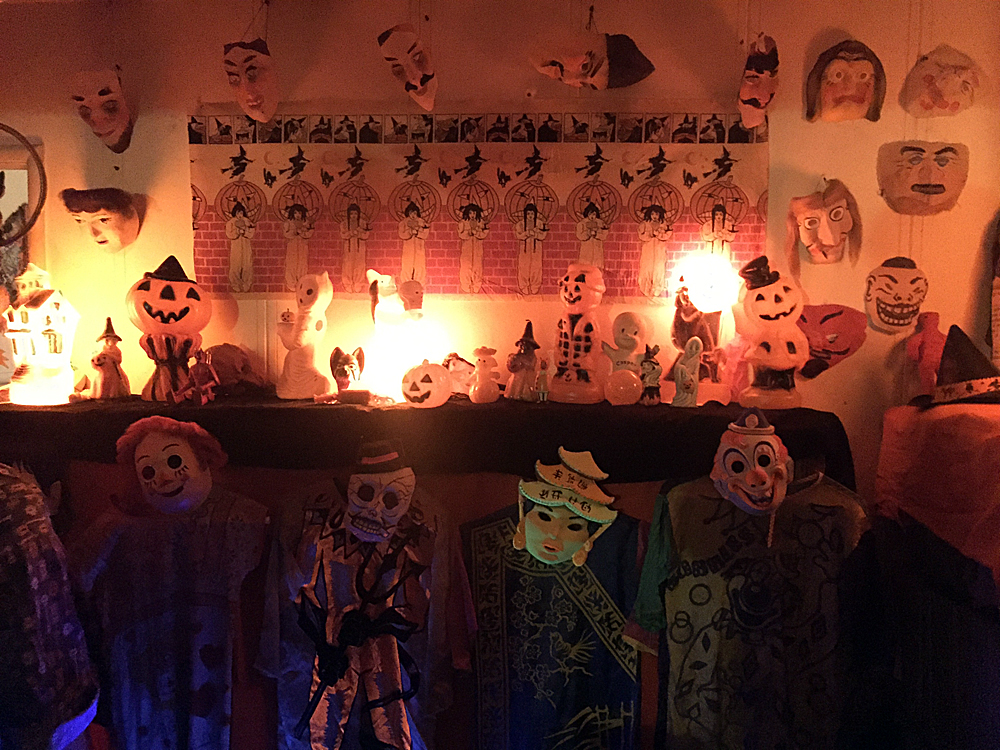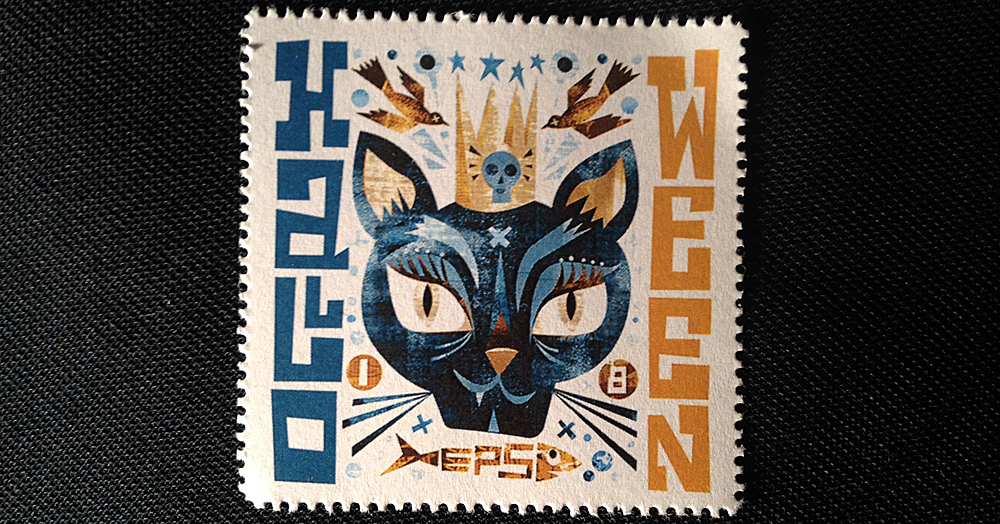 2018 October 31. EPS member Marissa sent along a spooky Remyween stamp.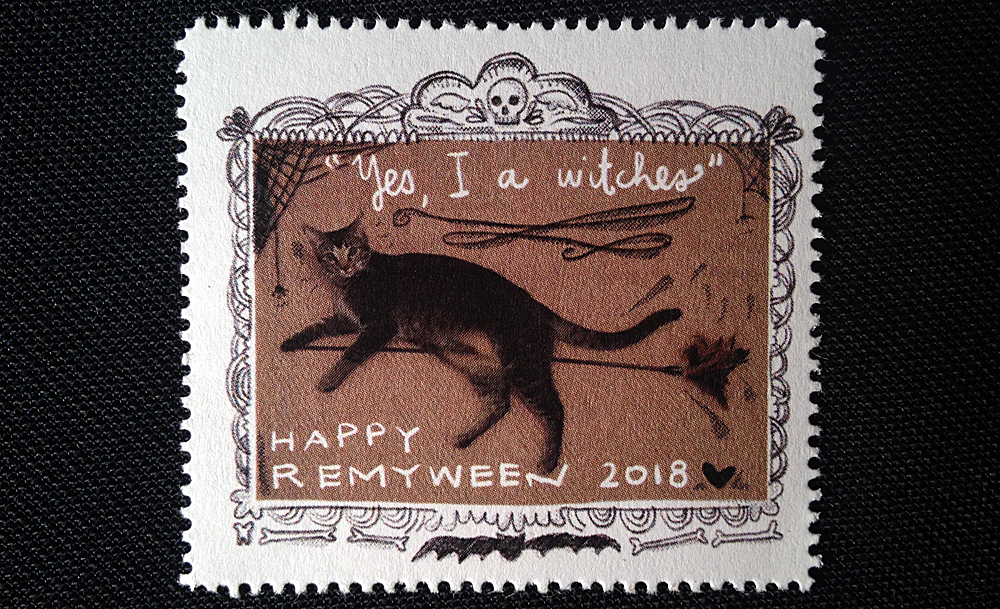 2018 November 2. Dia de los Muertos stamp window. Reprising their stamp window several years after and 2000 miles away from the original, this November 2nd Cassie Hassock assisted EPS friend Parcel Ghost with a stamp window at the Dia de Los Muertos celebration in San Francisco's Mission neighborhood. EPS members were given a map to find the stamp window at a location in Garfield Park.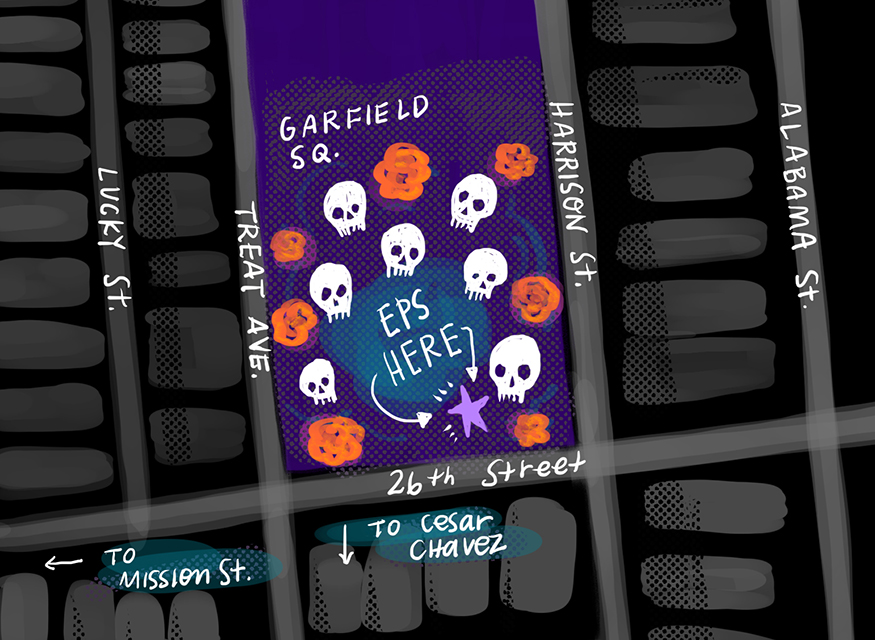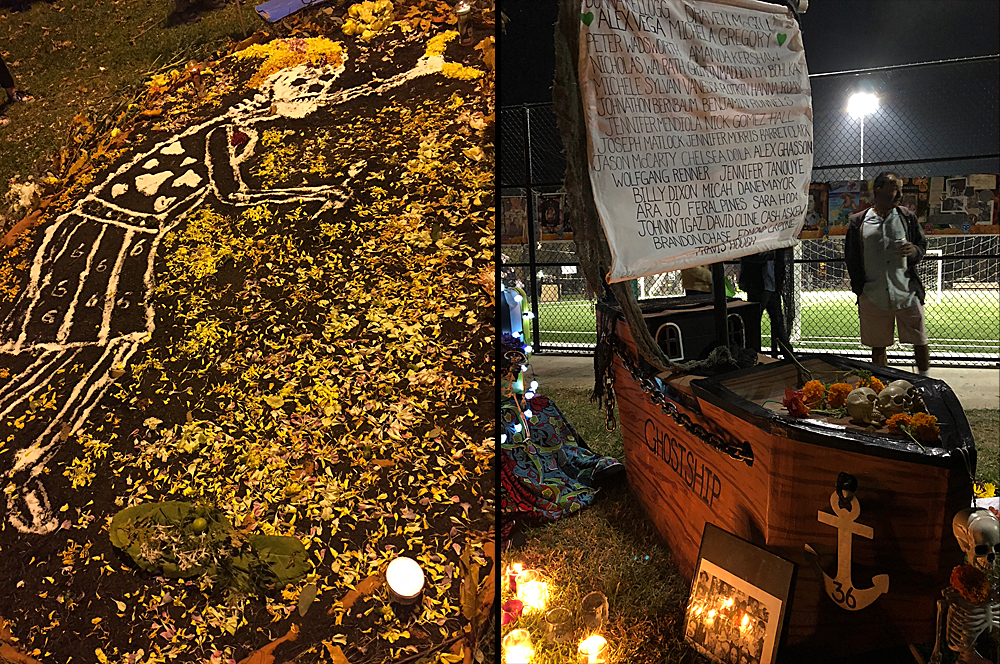 At this location, a beautifully decorated community altar amidst the celebration, Parcel Ghost could be found depicted on a votive candle. When participants found Parcel Ghost and looked below the altar at that designated spot, they found an installation of tiny shrines crafted by the EPS caretakers. Each shrine represented a tribute to a person, thing, or idea dear to the EPS.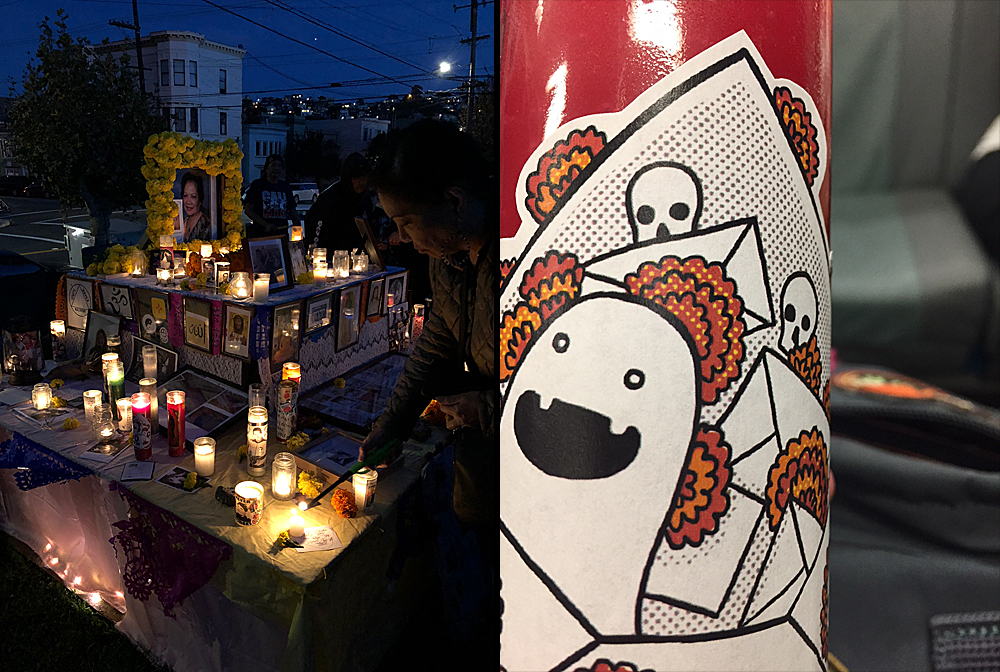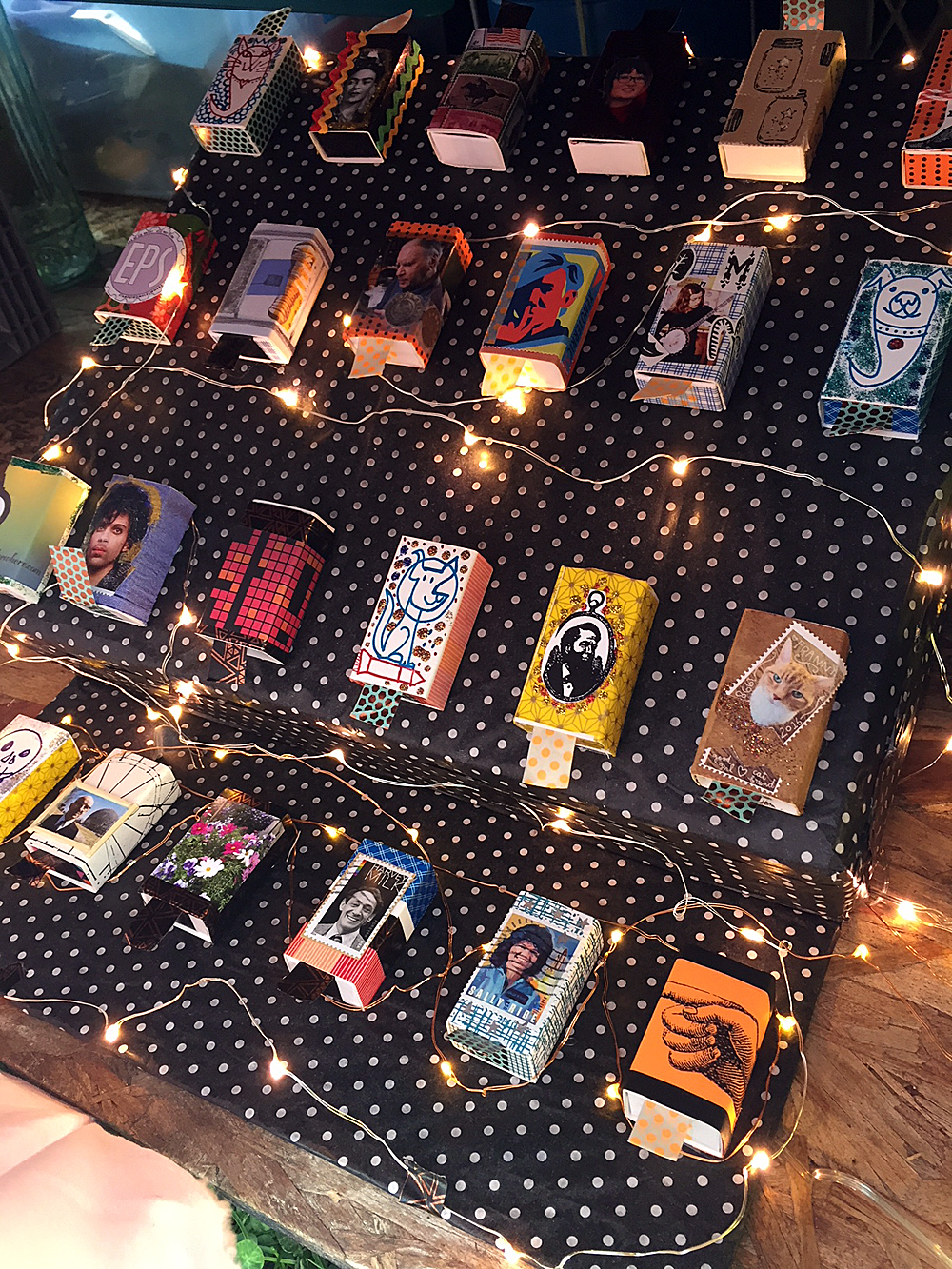 Each tiny shrine could be opened to reveal a Parcel Ghost stamp to affix in one's passport. The EPS wishes to thank Zonerhill for hosting us at this special community event.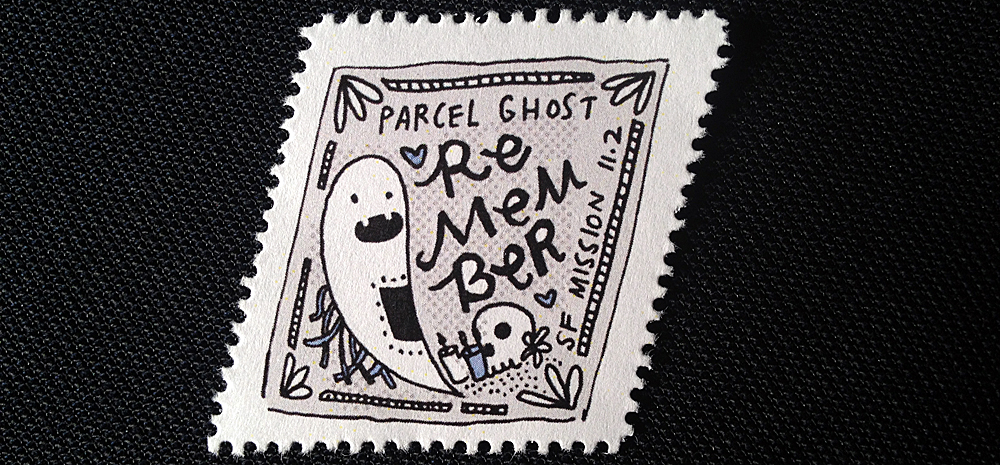 2018 December 8. Bulbs of Spring II. For the second year in a row, a benefactor has provided the EPS caretakers with daffodil bulbs to be planted in public spaces. Too, the promise of brightness to come, even in the darkest days of winter. The planting window was held simultaneously in San Francisco and Oakland.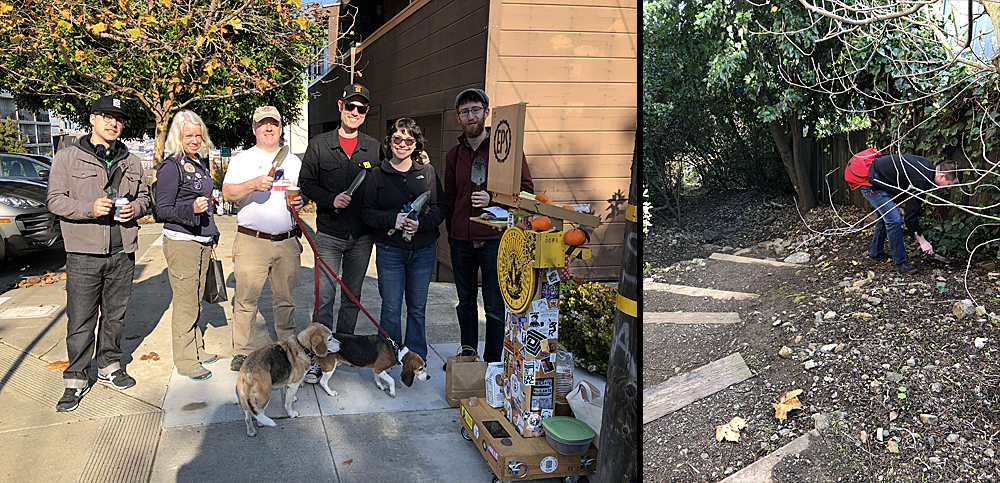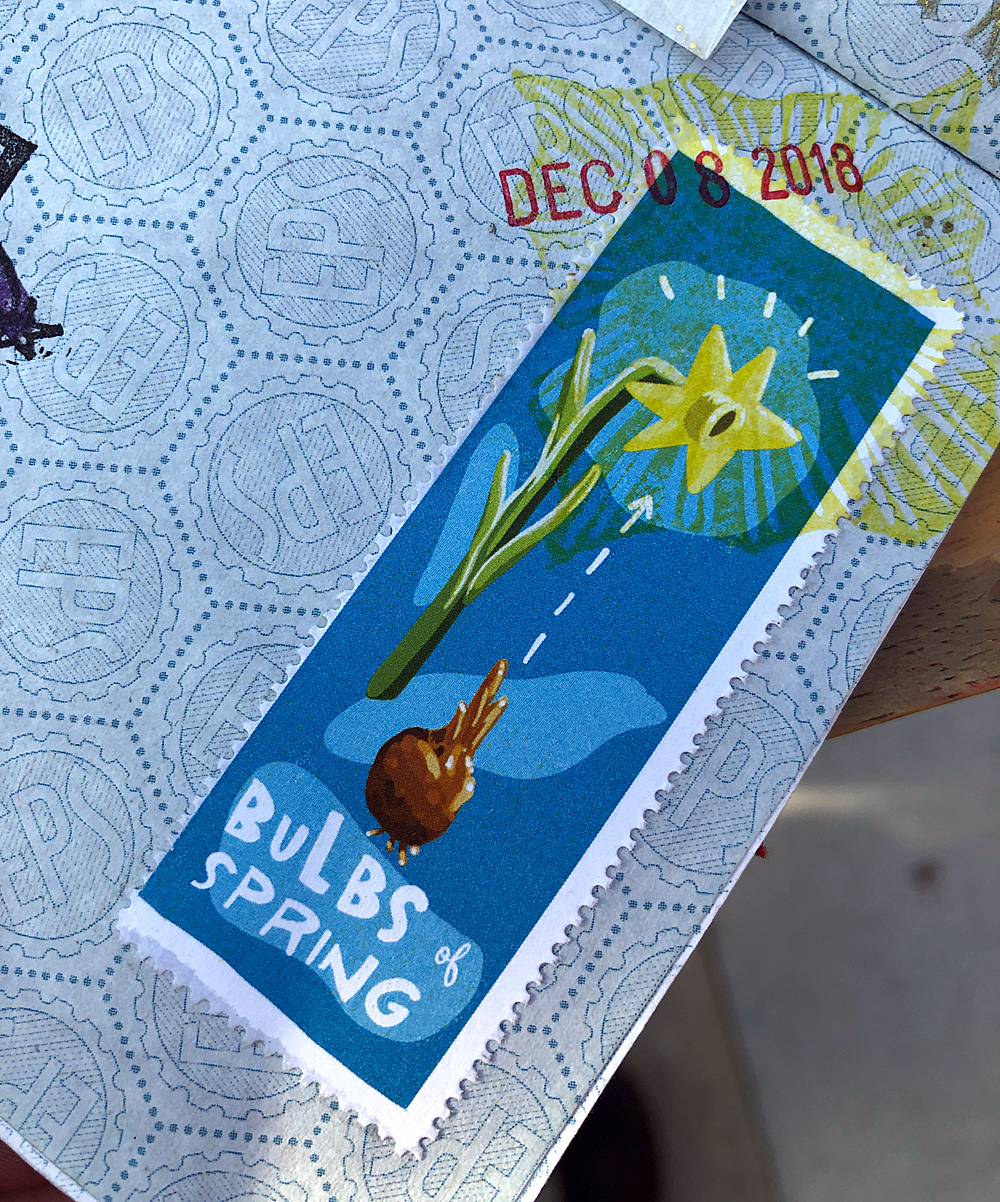 2018 December 17. Crazy 4 SASEs, EPS Zine #102. EPS members received this mailing if they signed up for the "Crazy 4 SASEs" SASE service.